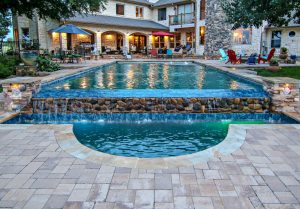 Oldcastle APG, a CRH company, has acquired Pebble Technology International, which specializes in branded outdoor living products and swimming pool finishes.
Headquartered in Scottsdale, Ariz., PebbleTec operates from five locations across the United States and boasts an established history spanning four decades. PebbleTec has a reputation for product quality and customer service.
Oldcastle APG's acquisition of PebbleTec enhances its proposition in the pool category, complementing existing products which include Belgard pavers and pool coping, Techniseal polymeric sand and sealers, and MoistureShield decking. This supports CRH's integrated and solutions-focused strategy by providing Oldcastle APG customers including architects, developers, builders, contractors, and more with complete end-to-end solutions for outdoor living environments.
"I am excited to welcome PebbleTec, along with its loyal customer base of applicators and builders, to the Oldcastle APG family," says Tim Ortman, president of Oldcastle APG. "We are proud to offer our customers a comprehensive set of outdoor living product offerings to serve their needs. That now includes the leading product in aggregate swimming pool finishes and we look forward to the future growth and development of PebbleTec within our portfolio of outdoor living brands."
PebbleTec's president, Darrell Eckstein, continues, "We are thrilled at the combination of Oldcastle APG and PebbleTec. Oldcastle APG represents a committed, long-term owner who will support our growth and invest in our people to enable heightened levels of success."