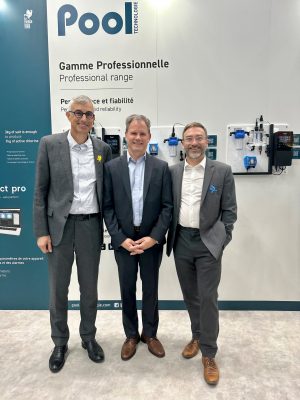 Pool Technologie continues its global expansion with the announcement of a partnership with Moov Sales Agency, a Canadian design, normalization, and distribution company for pool products in North America under the brand name Moov Pool Products.
Richard Lachance, president of Moov, indicates that this partnership will allow Pool Technologie a geographical expansion of their offerings in the North American market.
"Their innovative products hold an excellent reputation regarding reliability and performance. Currently, salt chlorination devices sold in North America are relatively less specialized, allowing pool professionals innovative products which remain easy to sell, install, and use," says Lachance.
"We are proud to announce this partnership with Moov and Richard Lachance, former international vice president at Hayward, and current president at Moov, for their knowledge of the Canadian and U.S. markets, allowing a local certification and a clear line of communication of our Minisalt and Justsalt products. Their agile and hands-on approach is similar to ours and they will be perfectly trained to offer an excellent service in this distinct region," says Nicolas Osanno, president at NextPool Group, which has integrated with Pool Technologie.
---
Pool Technologie continue son expansion globale avec l'annonce d'un partenariat avec Moov Sales Agency;  société Canadienne de design, normalisation et distribution de produits de piscine pour le marché Nord-Américain sous la marque Moov Pool Products.
Richard Lachance, président de Moov, indique que cet accord va permettre à Pool Technologie une expansion géographique de leur offre sur le marché Nord-Américain. « Leurs produits innovants ont une excellente réputation de fiabilité et de performance. Les appareils d'électrolyse de sel actuellement distribués sur le marché Nord-américain étant globalement moins évolués, cela va permettre de proposer aux professionnels des appareils plus innovants mais restant simples à vendre, installer, utiliser et entretenir.
« Nous sommes fiers de nous associer à « Moov » et à Richard Lachance, ancien Vice-Président International d'Hayward et président de Moov pour leur connaissance du marché canadien et américain nous permettant une certification locale et une communication claire de notre offre des produits Minisalt® et Justsalt®. Leur approche agile et pragmatique est similaire à la nôtre et ils seront parfaitement formés pour offrir un service client de proximité de qualité irréprochable. » a déclaré Nicolas Osanno, président de NextPool Group, qui a intégré Pool Technologie.