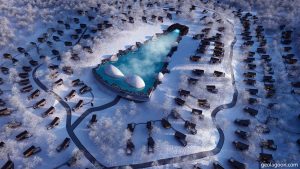 The Quebec-based company geoLAGON inc. is planning to build four energy self-sufficient tourist villages in Quebec placed around what could be the world's largest geothermal pools.
Each pool, or "lagoon", will be an open-air one, spanning 12,150 m2 (130,781 sf), and heated to 39 C (102 F) throughout the year.
These villages will be accessible to tourists through Airbnb-style short-term rentals, while the lagoons will be available for use between 10 a.m. to 10 p.m., and at night they will be emptied into a covered "night tank" to maintain their temperature and prevent water evaporation.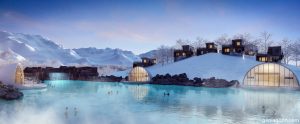 The energy used to power the pools and the residences will come from four sources: geothermal wells, photovoltaics integrated into the exterior of the accommodations, a biomass boiler with a 5,000 kW capacity, and a heat accumulator built under a thermal reservoir able to store 355,000 kWh of energy at 70 C (158 F).
Overall, the villages will have the potential of surpassing their energy requirements, and the excess can be passed onto the electric grid.
Each village and pool will require a minimum investment of $325 million. The company is seeking investors for this project and permits for the first one to be built in the Quebec's Charlevoix region, along the St. Lawrence River.
"As an entrepreneur, I decided to try to make a difference and to promote renewable energy in a new way: the self-sufficient model. I'm the former CEO of the biggest waterpark network in Canada, Calypso-Valcartier. And I choose to create some four-season touristic villages across the country, based on the energy of the sun and of the Earth," says Louis Massicotte, the founder and owner of geoLagon inc.
The company's goal is to start construction on the first lagoon and village in Quebec before summer 2023 and open for Christmas 2024.