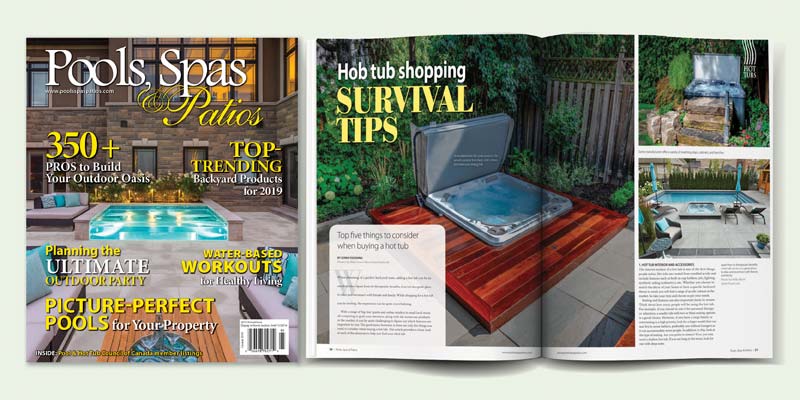 The 2019 annual issue of Pools, Spas & Patios, Canada's backyard leisure living magazine, will hit newsstands at major outlets on May 27.
Encouraging readers to relax, retreat, and rejuvenate through the creation of a backyard oasis, the magazine showcases the hottest pool, spa, and landscape designs, and offers tips on how consumers can turn their backyard into the ultimate outdoor retreat.
The magazine's 'Backyard Service Finder' offers readers a great search tool for those pool and spa/hot tub owners in need of assistance as well as for those seeking the right backyard service professional.
Backyard enthusiasts also turn to Pools, Spas & Patios to learn about the latest aquatic industry trends—from new products to new ideas. This issue features advice for homeowners on hiring a contractor to complete their total backyard makeover as well as the latest on pool automation. Preview the new issue here.
In addition to the print publication, Pools, Spas & Patios' interactive website offers a full suite of online extras, including a digital version of the 'Backyard Service Finder' directory, which allows users to search for a service company or distributor by typing in their location. Visitors can also browse the latest Sensual Appeal design profiles, seek sage advice on pool and hot tub maintenance, as well as find need-to-know information on picking the perfect pool.
Consumers looking for the latest pool and/or hot tub, and backyard living products can also check out the online 'Products' section where a host of items can be found via categories such as entertainment, fun & games, hot tubs, outdoor décor, and pools.
For additional content and social media networking, follow Pools, Spas & Patios' on Facebook and Twitter.