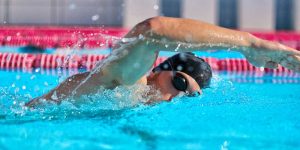 In preparation for the reopening of sport and recreation facilities, Swimming Canada and its partners have created a 15-person working group.
Chaired by Swimming Canada operations director Brian Edey, the group includes key staff, medical personnel, representatives from provincial organizations, and Pan Am Games medalist Jeremy Bagshaw as athlete representative. A sub-committee of coaches from across Canada will also provide input.
As part of the initiative, Swimming Canada will work with Canada Artistic Swimming, Diving Canada, and Water Polo Canada, its major recreation facility partners, and the Lifesaving Society, which sets lifeguard standards in Canada. As appropriate, recommendations and information will be shared with health authorities, aquatic facilities, provincial sections, clubs and coaches.
"As we look to eliminate barriers to return to the pool, safety will continue to be the number one priority," said Swimming Canada CEO Ahmed El-Awadi. "There is no quick fix, and we will collaborate with all our partners to work within the recommendations of local health authorities."
The return to swimming pools will be a phased approach, beginning once municipal, provincial, and federal regulations permit it.
The first phase would target the return of a small group of top athletes, such as those training at Swimming Canada High Performance Centres, and other Olympic and Paralympic hopefuls training in club or university settings. Training environments will need to be modified as required to meet safety guidelines.
Future phases will expand these groups as the sport works toward a full return to training, and eventually competition.
As requirements will differ by area, Swimming Canada will provide sample return to swimming plans, facility access and pool usage recommendations, sample workout plans, and risk assessment tools where appropriate. The first phases of these documents are expected to be distributed later this month.
Swimming Canada officials are hoping to host an invitational camp for top pool and open water swimmers Aug. 25 to 29.
"Swimming is extremely important to Canadians who value a lifestyle of sport, fitness, and health," said Swimming Canada president Cheryl Gibson. "Canadians are global leaders in high performance, and we will be leaders in making a safe return to the water."