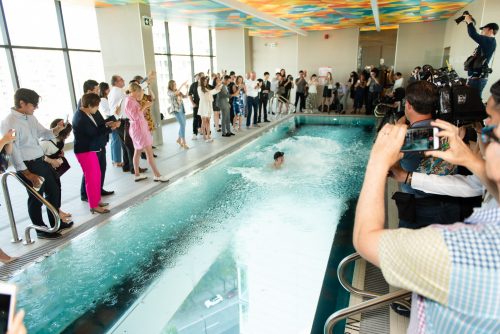 Concord Pacific's condominium, Arc Vancouver, features the country's highest swimming pool.
The structure, which is 60.1 m (200 ft) high and is 152.4 mm (6 in.) thick, allows bathers to look 19 floors down at the public plaza below through its clear acrylic bottom. This was designed and installed by Walter Francl Architects and Glotman Simpson Engineers; the acrylic structure was shipped from Reynolds Polymer in Colorado with only three companies in the world that could make the pool bottom.
"The precarious and challenging pool installation only made our job more interesting as we had to store the solid acrylic panel among the construction while the building was being completed, and lower the panel into place once construction was finished," said Reynolds Polymer's vice-president of sales and marketing, Mark Johnson.