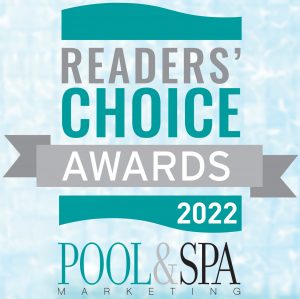 It's time to vote for your favourite products in Pool & Spa Marketing's 2022 Readers' Choice Awards.
Last year's turnout showcased some of the best products in the industry, ranging from business software tools and light-emitting diode (LED) pool lights to pool climbing walls, hot tub cover lifters, spa vacuums, variable-speed pumps (VSPs), and water features.
Categories for the awards include Business and Leisure, Commercial Pool, Maintenance and Cleaning, Spa Types and Accessories, and Residential Pool Accessories, Equipment and Parts, Cleaning, Maintenance, Pool Construction Products, and Specialty Features.
Please visit this page to vote for your favourite product from each category. This is your chance to let us know which products you think are tops!
Full product and winner details will also be spotlighted in the December issue of Pool & Spa Marketing.
Best of luck to all entrants!