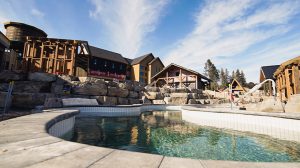 Located 45 km (27.9 mi) away from Toronto, Whitby's Thermëa Spa Village will finally open to the public on Oct. 6, after over five years of facing construction and pandemic delays since the Nordik Group first announced its construction in 2017.
Built near Cullen Central Park (300 Taunton Road), it covers more than 35,800 m2 (385,400 sf) of area in the heart of Whitby. The spa village will include a beer garden, saunas and steam rooms, outdoor pools, an underground Epsom salt flotation pool, 25 massage rooms, among other amenities.
Nordik Group claims on its website: "Our powerful supply and pumping systems ensure that the water in our pools is completely filtered every 30 minutes. A computerized monitoring system analyzes water in real time, and automated control systems chlorinate and disinfect as needed. The process is further enhanced with new UV lamp technology to guarantee water quality throughout the spa."
Styled after hydrotherapeutic elements borrowed from the Scandinavian region, Nordic spas promise holistic health and wellness benefits, surpassing mere recreational benefits. Nordik Spa is particularly modelled on thermotherapy, a special kind of cold and hot water treatment, interjected with rest periods to achieve wellness.
While a Nordic spa is already found in Canada's Blue Mountain region, for Toronto and GTA, the new spa will prove to be within a far more accessible distance.