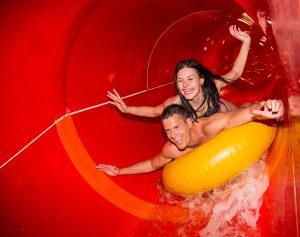 For the first time in two years, the Adventure Bay Family Water Park in Windsor, Ont., is open, but it is facing some new challenges.
According to a report from CBC News, the indoor waterpark in the city's core opened its doors last week, to a crowd of Windsorites.
"It feels like our grand reopening once again," Jen Knights, executive director of recreation and culture at the City of Windsor, told CBC News.
Knights said hiring and training new lifeguards has been a challenge, with staffing shortages across the province in cities like Toronto and Ottawa. Waterparks were also among the last attractions to be granted permission to reopen under provincial health guidelines.
The City of Windsor has budgeted $150,000 per year to cover potential repairs to the park and its facilities. Despite having access to these funds, Knights is not sure if and when the waterpark will be profitable.
"Any aquatic facility you see in operation, you'll find pools are very expensive to run, whether it's a pool or it's a waterpark," Knights said in the report. "We certainly continue to work hard to minimize our costs and maximize our revenue."