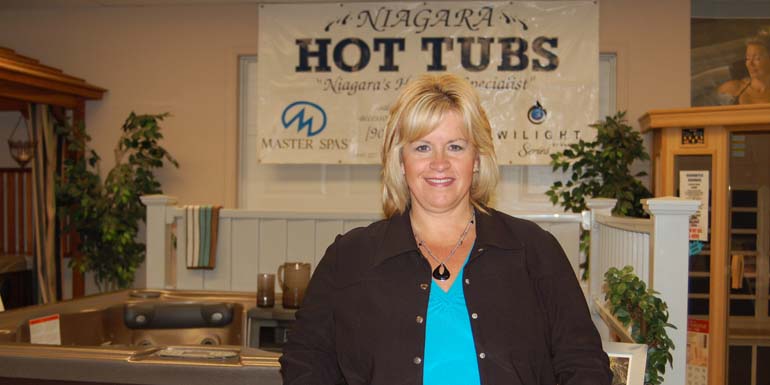 By Kristine Archer
When it comes to making her customers happy, Debbie Goch, co-owner of Niagara Hot Tubs, knows you have to go the extra mile.
"I remember a new customer who was having their hot tub delivered on Christmas Eve, and assured us everything was ready to go," Goch recalls. "However, when we arrived, the customer's electrician had bought the wrong wire and ground fault circuit interrupter (GFCI) box. We waited on site and helped the electrician get everything ready, to ensure the customer would be able to enjoy their hot tub on Christmas Day. We were at their home for eight hours, but the customer was extremely thankful."
In the beginning
It is this kind of attention to customer service that has helped define the business Debbie and her husband Mike co-founded 10 years ago in St. Catharines, Ont. The couple came to the hot tub industry through an acquaintance and noticed the aging baby boomer population was becoming more interested in hot tubs for their relaxation and therapeutic benefits. This prompted the entrepreneurial husband-and-wife team to take advantage of the trend.
"Mike had a friend who operated a hot tub store in Hamilton and they thought they would partner up and open another store in St. Catharines," Goch says. "Mike thought hot tubs were becoming far more popular and we definitely thought there was room for another hot tub dealer in our area at that time."
Within a year, the couple bought out their partner and took over the business themselves. Goch, who at first held a part-time job, took over the day-to-day operations of the store, while Mike helped out while still holding down his full-time job. She admits that 10 years ago, as a hot tub novice, there was a lot she had to learn about the business.
"It's like anything," she says. "Yes, there was a lot about water chemistry that I was not familiar with, but I'm also a firm believer in research. I did a lot of research myself and read all the articles I could."
The evolution of the store
While Niagara Hot Tubs has grown in leaps and bounds, they have stuck to a tried-and-true formula over the course of their decade in business—quality products and customer service.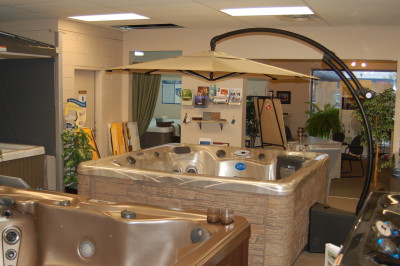 The company deals exclusively in Master Spas hot tubs, with models from all five of the manufacturer's product lines in stock. Offerings range from basic models, for the budget-conscious consumer, to elaborate swim spas. Goch says their goal is to offer hot tubs for every conceivable budget and price point.
"We've always been very comfortable with what Master Spas has got to offer," she says.
An electrician is still required to complete hot tub installations, but the team at Niagara Hot Tubs still makes a point to go back to the customer's home after installation to walk through the chemical requirements and maintenance needed to keep their products operating properly.
While the store's hot tub offerings have not changed too much over the years, the Gochs have branched out into other areas of the leisure market, offering infrared and wet saunas—portable, plug-in models—which now comprise a small part of their business. The saunas add a new revenue stream, which is particularly appreciated in the slower winter months, when pouring a concrete slab and installing a hot tub isn't as easy to accomplish.