On the grow
In addition to themselves, the Gochs have two employees on staff, one full-time and one part-time. The couple's two sons also pitch in to help their parents, primarily with deliveries and set-up. Debbie is still in charge of day-to-say store operations, while Mike handles deliveries.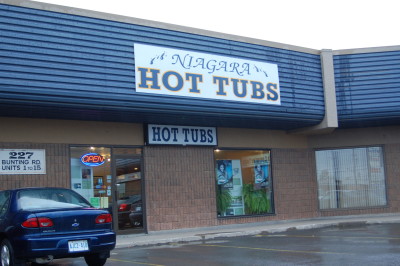 As far as competition goes, the Gochs have seen a few stores come and go over the past decade, usually only having to contend with three or four smaller competitors, as well as a few 'big box' stores. The store's customer base expands beyond St. Catharines into the entire Niagara region, and as far away as Hamilton; however, they are careful not to encroach on other Master Spas dealers' territories. The company is also coming off of a couple of its best sales years ever, despite the recent economic downturn.
"We've always been pretty steady," Goch says. "The first couple of years in business, it was a slow-but-steady growth, but from then on, it's always been within a 15- to 20-unit sales increase every year." That growth can be attributed to many different factors, according to Goch.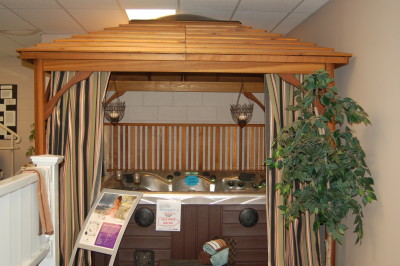 "Families, in some cases, are just not wanting to travel, because there are so many more complications involved with people taking vacations," she explains, citing recent passport requirements placed on Canadian travellers. "We're all working; everybody seems to have a double-income family, kids are running in all different directions. At the end of the day, you just want that family time, away from the TVs, computers and phones. Or it's a way for Mom and Dad to relax the stresses away at the end of the day because we're all working so many hours.
"I also think our (sales) increase also has a lot to do with our customer service. We offer really good customer service, so the referrals we get are pretty intensive. We have been told over and over that we go above and beyond. I've always been that type of person. If someone has a problem, I'm going to look at it from the customer's point of view and try to give them the best service we can. People really appreciate that."
The power of customer service
The evidence lies in the several awards Niagara Hot Tubs has received over the years. The store has consisted been voted by readers of Niagara This Week as the region's favourite hot tub store and has been recognized under Master Spas' Apex program, which highlights the company's best dealers. Goch also believes in the power of small acts and their impact on customer loyalty.
"I remember a customer who came in looking for a $5 part for his old hot tub. He had been to all the other stores in our area and no other company went the extra mile to find the part, since there was really no profit in it—but we found it for him, because we are interested in the long-term relationship with the customer." That relatively small effort eventually paid big dividends.
"Sure enough, two years later when it was time to upgrade to a new spa, that customer came directly to us and did not even look anywhere else. He was so impressed with our customer service."