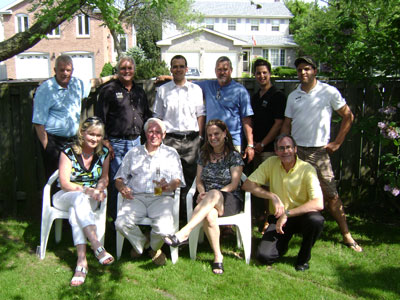 The Pool & Hot Tub Council of Canada (PHTCC) recently held an open house to celebrate the official inauguration of the association's new office in Brampton, Ont.
Current and past members of the council's board of directors, members of the association and individuals who have made unique contributions to the PHTCC were invited to attend the open house. The event brought industry members together to discuss current events and give some guests their first chance to see the new headquarters.
"We were extremely pleased that 18 industry representatives were on hand to join us in the inauguration of the new office," said Rob Wood, PHTCC's executive director. "Among the attendees were current president, Phil Bach (Pentair Water Pool & Spa), vice-president, Rob Pagliaro (Central Spa & Pool Supply), and past president, Terry Coulter.
"Obviously, it was not possible to invite the entire industry, although members are welcome to visit at their convenience during office hours. Due to the interest shown by those who were invited but were unfortunately unable to attend, we may host another reception in September."
The PHTCC moved to the new location on 5 MacDougall Dr., last fall. According to the PHTCC, the decision to purchase, rather than lease, the property will result in reduced costs and over time build equity for the association.