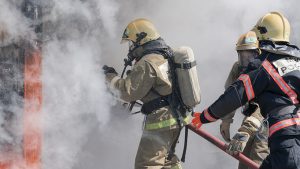 A Winnipeg pool business owner is looking to the future after watching his building ravaged by fire last week.
The blaze erupted at Pool Pros at around 1:30 p.m. on June 30, with co-owner Joey Walker telling CBC News he was "basically watching his signs smoulder away on the front of the building right now."
The fire caused local officials to reroute traffic in the area, and firefighters were still battling the flames late into the day.
Walker said his 10 employees in the building escaped without injury, and they helped to evacuate other local businesses. He told CBC he was unsure of what had caused the fire.
The day after the fire, Walker shared the following message of the business' Facebook page:

"First off, we want to thank fire, police, and paramedic services who worked tirelessly yesterday and continue to do so today.
Thank you to our neighbouring businesses across the street J&D Penner and Jensens for letting us park there and offering our staff water and support after the fire broke out.
Thank you to many of our peers in the industry who have offered to help with supplies and support. We are so fortunate to have such a close pool community.
Thank you to our customers who have reached out to check in on our staff and make sure we are all okay. We are so lucky to have each one of you, your support helps keep us going in more ways than one. We are making plans currently to continue servicing all our customers without disruption. Keep your eyes peeled on your email as more information will come on how we need customers' help and where we end up.
Finally, our Pool Pros staff. Your resilience is admirable, and you are all family. We are so thankful that because of your efforts no one was hurt.
As a seasonal business, having something of this magnitude happen in the middle of your season is impactful. However, we are dedicated to keeping the business going and rebuild what we can.
….We will continue to organize ourselves and find a temporary home and keep business as usual. At the end of the day we wouldn't be able to move forward without the help of all these folks and more. We are going to need as much support as we can get in the next few months and we know with your help we will make it through this. Thank you all."