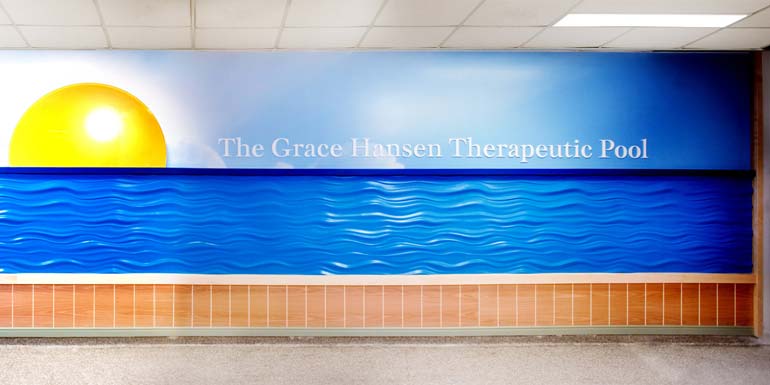 After closing the hydrotherapy pool at the QEII Health Sciences Centre's Nova Scotia Rehabilitation and Arthritis Centre five years ago, patients, therapists, and community members have reason to celebrate as a new pool will open this summer.
The original therapy pool, which was constructed in the '70s, was used by patients for pain management, as well as mobility and joint problems. However, it was closed in 2011 due to constant leaks caused by the corrosion of its cast-iron plumbing.
When the need arose to refurbish the therapy pool, the QEII Foundation and rehabilitation staff launched the Revitalizing Rehab campaign, which raised $2.6 million. The largest gift was a $1 million donation from the family of Carol Hansen-MacDonald and Colin MacDonald, chairman of Clearwater Seafoods. In honour Carol's mother, the pool was named The Grace Hansen Therapeutic Pool.
The campaign's main focus was renovating the pool and introducing additional programs to improve recovery for the thousands of patients who visit the centre each year. The renovation of the therapy pool was unconventional to say the least, as its location on the third floor of the building presented some challenges. As a result, a brand new pool was installed as the project had to be redesigned from the inside and outside.
"We consulted with experts in the field of hydrotherapy to ensure we are providing the best care for patients," said Randi Monroe, director, rehabilitation and supportive care, QEII. "Change rooms were built to maximize independence and everything from the effects of the soft ceiling lights to the peaceful wall colours were purposely chosen to help patients in their road to recovery."