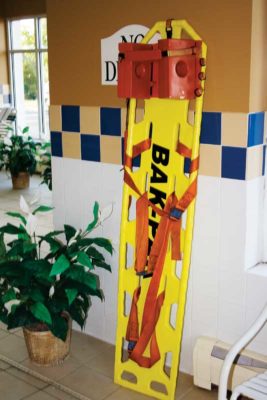 Often a pool or spa facility manager will develop their own daily checklist. Most codes allow these customized reports as long as they contain the minimum required information. Consider the following list as a foundation on which to build a daily record for any facility:
Free chlorine or total bromine;
Combined chlorine;
pH;
Safety equipment is in place and functional;
Suction drain covers and fastening screws visually observed and in place;
Barriers are in place blocking unsupervised children from access to potentially dangerous parts of a facility;
Flow meter reading;
Filter pressure differential or pump vacuum;
Number of users (daily);
Water temperature;
Air temperature;
Humidity (in indoor facilities);
Water clarity;
Filter backwashing;
Chemicals added;
Skimmer and hair/lint baskets cleaned;
Deck waste containers emptied;
Daily locker room maintenance checklist;
Self-closing, self-latching gates operate properly;
Ladders and handrails are in place and secure;
Diving boards/starting blocks secure in place;
Access to storage/chemical areas locked;
Deck area clear from obstructions;
Lockers and bathrooms are clean and properly furnished with amenities;
Pool or spa rules are in place and can be easily observed by patrons;
All underwater lighting is functional;
Safety and rescue equipment is in place and functional; and
No settled debris in pool or spa.
An opening and closing checklist is a useful tool to help monitor the facility for exposures to risk of injury. Unsafe conditions should be noted and corrected before the facility opens. If a problem cannot be fixed beforehand, then there will be a delay or, in some cases, the pool may be closed for the day. Patrons should not be allowed in before the problem is resolved. Signs, ropes, barriers, or cones can provide assistance to alert patrons of a closed section. In severe cases, the facility may need to remain closed until the situation is resolved. This could mean days or even weeks.
Upon closing, it is important no patrons remain in the facility. All movable equipment should be returned to its storage location, lights turned on or off as required, and the site should be properly secured.