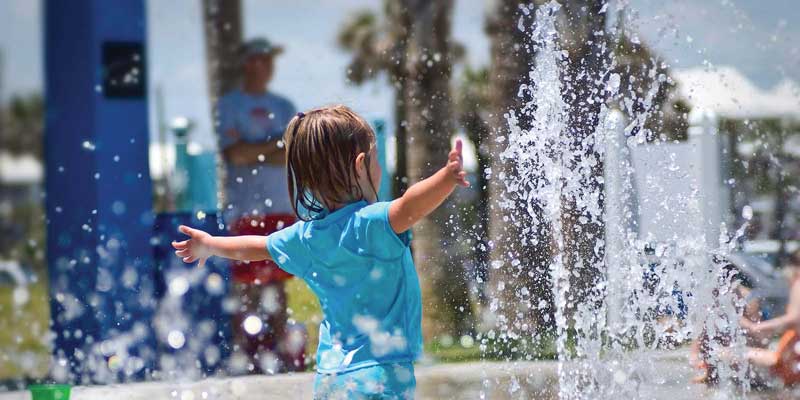 Funding awarded through the Canada 150 Community Infrastructure Program (CIP150) has helped stakeholders in the small community of Sainte-Claire, Que., upgrade the Lafontaine splash park.
Created in 1984, the Corporation Loisirs & Sports Sainte-Claire, a non-profit organization, organizes, promotes, and monitors sports and recreational activities in the Sainte-Claire municipal park in the Bellechasse RCM.
The municipality does not have a beach or pool for residents, so the Lafontaine splash park is the only aquatic facility in the area where families can get together when the weather gets hot.
"Through CIP150, the Government of Canada supports projects like this one by the Corporation Loisirs & Sports Sainte-Claire, which mobilize and unite our communities and stimulate economic activity across the country. Community and recreational infrastructure like the Lafontaine splash park in Sainte-Claire helps increase quality of life and create gathering places," said the Honourable Navdeep Bains, Minister of Innovation, Science and Economic Development and Minister responsible for Canada Economic Development for Quebec Regions (CED).
The $53,148 in funding has helped the organization build a reinforced concrete surface, irrigate the soil, buy and install play modules, landscape the grounds surrounding the space and complete the plumbing and electrical connections. The expansion of the splash park surface and the addition of 13 new modules will make the space more accessible, safer, and more attractive.
"We are pleased we could rely on the support of Canada Economic Development for Quebec Regions (CED) for this project," said Mathieu Chouinard, president, Corporation Loisirs & Sports Sainte-Claire. "The upgrading and expansion work on the Lafontaine splash park will allow residents of Sainte-Claire and the surrounding area to enjoy a bigger, safe and accessible play area that can now accommodate a lot more people."