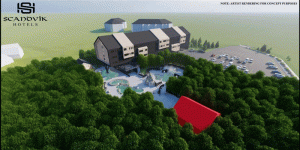 Scandvik Hotels is proposing a Scandinavian boutique wellness hotel and Nordic spa at the Willows Golf Community in Saskatoon, Sask.
"We couldn't be more excited to help create a place to destress, relax, and be at peace within the Saskatoon community," said Travis Batting, president of Scandvik Hotels & Nordic Spa. "Nordic spas add incredible value to wellness within the communities they are built in, and it will create a unique destination for the city."
The development is proposed to be built on four acres of land located at the Red Barn Site at The Willows. The adult-only spa will feature a walk-out design and multiple outdoor thermal/cold plunge pools, saunas, steam rooms, massage and treatment rooms, fitness classes, meditation rooms, outdoor relaxation centres, and other outdoor activities.
The proposed hotel will feature a modern Scandinavian design, including 120 guestrooms, 100-seat lounge/restaurant with a three-season patio, meeting space, and technology throughout the hotel.
"We believe the Nordic Spa, which will be the first of its kind in the province will help support the tourism industry, the city's WinterYXE strategy, and providing valuable jobs and economic spinoff to both the city and local businesses," says Batting.
Scandvik Hotel Group is a locally formed group that has more than 100 years of leadership in hospitality management, development, and construction of commercial/residential/hotels. Much of the group is from Saskatchewan with strong ties to the prairies/Saskatoon.
Construction is expected to take 18 months to complete.