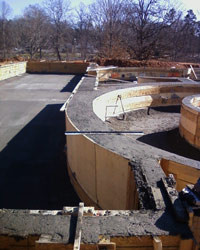 Spider Tie Canada Inc., has signed an exclusive agreement with Spider Tie (U.S.) to distribute the company's concrete wall forming system in Canada.
Spider Tie, a division of Paladin Industrial, and a manufacturer of a concrete wall forming system for swimming pool construction in Millville, Utah, has signed an exclusive multi-year Canadian distribution agreement with Spider Tie Canada Inc., in Brampton Ont.
The Spider Tie concrete wall forming system was developed as a way to simplify reinforced concrete pool wall construction. By using internal form supports (IFS), the forming system allows traditional steel or polymer pool builders to construct concrete pools easily, without any major equipment investments.
In an effort to market the product to swimming pool builders, landscapers and contractors, Spider Tie Canada is offering a series of free hands-on demonstration/training events. The first of which is scheduled for Feb. 28 in Milton, Ont. For information on upcoming demonstration days, visit www.spidertie.com or contact sales@spidertie.ca.