By Michael Willis
Outdoor landscape designers/contractors, architects, and pool builders all play vital roles in creating today's masterpieces. For these professionals the medium differs than that of a traditional artist, as the canvas comprises a yard full of grass and soil.
The reason why homeowners decide to invest in outdoor living spaces can vary greatly between clients. There are obvious reasons, such as entertaining family and friends, while the desire to have a place to relax after a long day at work is also high on the list. Whatever the reason, a project's design should reflect the homeowner's individual taste and style, be built with quality materials, and engineered to last.
That said, taking someone's vision from a piece of paper to a constructed physical space is a remarkable experience for many builders/contractors. Backyard landscapes have evolved far beyond the simple pool, patio, and garden. Today, it is common to see extravagant watershapes surrounded by intricate patios that are furnished with fire elements and water features. It is not unusual to find flat-screen televisions, extensive night lighting, and outdoor cooking spaces, either.
For most landscape projects, designers and builders must work within the constraints of an existing yard. In these cases, the project features (e.g. pool, patio, or deck) need to be designed around the home's physical footprint (i.e. foundation). The property's elevations and grading will have already been established and all features will be locked to this. Ideally, the project features and components should be positioned in the most functional way in relation to the home's interior layout. Although an established house and yard cannot be altered drastically to accommodate the landscape project, working with the space provided is part of the challenge.
However, if the entire outdoor landscape can be planned in unison with the design of the home, floor plans could be tweaked to maximize functionality between the interior and exterior layouts. Every feature would be more thoroughly integrated, extending the home's living space while also allowing for much more design freedom. All of this might sound ideal, but keep in mind building a landscape project in tandem with the construction of a house does involve some unique challenges.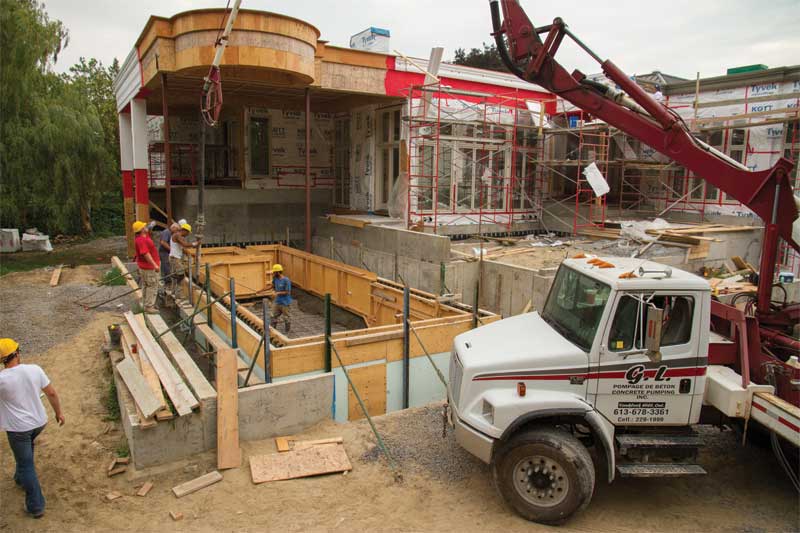 Any large-scale job requires detailed designs, extensive planning, diligent organization, as well as methodical project management. Jumping right into a project without dealing with all of these elements properly will create costly errors, budget overruns, unexpected delays, and all-out chaos. Nothing is worse than having a great project turn into a nightmare, especially when the goal is to create a place to relax, refresh, and rejuvenate.
Discover the vision
Some client's will already have a clear vision of what they would like to achieve in terms of the design of their house and landscape. They have already visualized their dream home and backyard, complete with all the bells and whistles. Other clients may not know what they want, giving carte blanche to the design team. In most cases, however, the planning phase is a collaborative effort between the client and the designers. During this phase, discussions should take place to discover the client's needs and wants, and research should be performed to determine the key project components that are to be incorporated in the design.
Today, many sources are available to designers/builders to conduct this research, including magazines, websites, blogs, social media, and design specific apps. It is not uncommon for this phase to take months before a shovel hits the ground. Once research is underway and countless images and information is stocked, the initial design phase can commence.