By Melinda Herber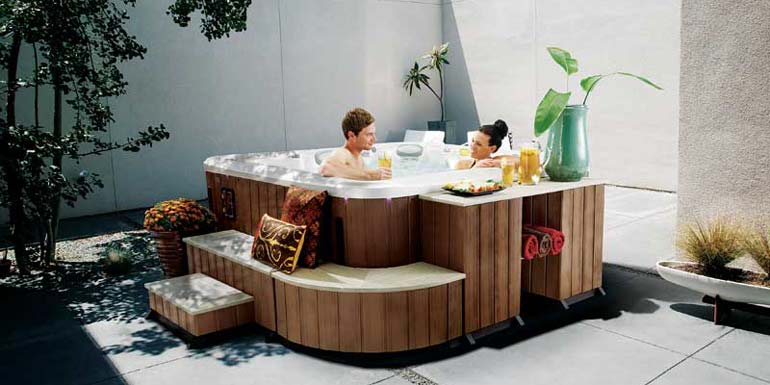 Hot tubs have come a long way over the past 30 years. From being constructed of brown marble fibreglass with only five or six jets for hydrotherapy, today's hot tubs have morphed into new, sophisticated designs with an array of internal components and colours meant to bring hot water therapy to a whole new level. While hot tubs have changed, the desire for a complete backyard retreat is still at the forefront of every consumer who purchases one. Their interest has since waned from the old-style gazebos or wooden surrounds with wine racks which required staining and meticulous care. The consumer is not happy with a wood gazebo or just a cheap, plastic step; they are looking for a complete transformation of their backyard.
For years, retailers have long contemplated the age-old question of the average consumer, "How do I prevent my hot tub from looking like it is just a box of water?" It is an unspoken question, but one which begs to be asked. In the '80s, gazebos were all the rage; there were vinyl, wood, lip-mount, lattice, free-standing, sliding door, Plexiglass, domed, gazebos with cupolas, then in the early 2000s, synthetic material became a staple of the hot tub industry. Many of the major manufacturers stopped using wood cabinets and introduced new, longer lasting, sturdy, extruded synthetic materials. As the use of these materials increased, gazebos were slowly phased out, as were most wooden accessories.
Synthetic material resolved many challenges; it did not rot, nor did it need to be stained. It could be wiped down and look almost new, even after four or five years in harsh weather and being exposed to ultraviolet (UV) rays. Further, synthetic materials came in colours that were now formulated: deep-rich mahoganies, blonde tones which resembled yellow birch, or the deepest red of sierra redwood. Each colour was chosen from a variety of hues to not only enhance the hot tub, but to also accentuate the entire backyard. Manufacturers were ecstatic about this new material. It seemed as though this was the answer to making the hot tub look better.
The real question, however, is how does one enhance the look of the hot tub in the backyard? More importantly, how are these enhancements sold to the average consumer? There are easy answers to these questions, but how they are conveyed to the consumer is even more important. The fact is, more add-ons are being accepted as the answer for the transformation of the backyard, whether it is in a surround, pergolas with fire pits, or just a small vignette with stools and a bar.