Prairies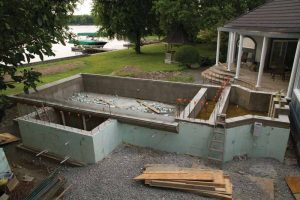 The weather in the Prairies (Manitoba, Saskatchewan, Alberta) varied greatly from province to province. According to Environment and Climate Change Canada, the frost line in some areas in this region measured 2 m (6.5 ft) deep until mid-May. If this was not enough, drought was another concern between April and August. More specifically, wildfires once again took their toll in Alberta where areas such as Calgary faced almost 500 hours of smoke in August. Further, between September and October, this region also experienced an abrupt change of seasons—from summer to winter. Also noteworthy, was the fact Edmontonians faced a record 384 mm (15 in.) of snowfall in September.
When looking at the region's pool permit records and taking into account some of the climate conditions described above, it helps one understand how different CMAs are affected. It also puts into perspective how volatile any one region is with respect to weather disruptions and confidence in the economy.
For instance, five CMAs reported a decrease in permits in 2016, while only one of six had fewer permits in 2017. Last year, this region had three CMAs report decreases, as well as one province.
In breaking this down, Alberta was the worst hit with 36 less permits registered (down 23.3 per cent). One of the biggest reasons for this was due to the fact Edmonton was down 65 per cent year-over-year with 50 less permits reported.
Although Regina was down 60 per cent in 2018, Saskatchewan was up by almost 30 per cent. Finally, Manitoba was the most successful as pool permits increased by 58.5 per cent last year. This marks the province's second consecutive year of growth.
Overall, the Prairies represent three per cent of the total number of building permits issued in Canadian CMAs, which is the same as last year.
British Columbia
Similar to 2017, this province faced a range of calamities—from spring flooding and uncontrollable wildfires which were compounded by a dry, hot summer. In fact, nearly 2000 wildfires were active across the province and by August there were 460 occurring simultaneously—more than any single day in 2017.
Unlike the 2017 season where permits were up in the Prairies but down in British Columbia, the trends last season were the opposite. For instance, 2017 pool permits were down in regions such as Abbotsford-Mission and Victoria, but last year these CMAs showed increases of 100 and 33 per cent, respectively. Permits also increased in Kelowna for a second year (up 5.4 per cent); however, Vancouver reported its second year of decline (down 9.6 per cent).
In a year-over-year comparison, this region, as a whole, was up during the first six months of 2018 by 51 per cent; and again between July and December by 16 per cent. Overall, the province experienced a 26.5 per cent increase in pool installations in 2018, up 23.5 per cent over the year prior.
British Columbia represents five per cent of the total number of building permits issued in the country's CMAs, which is the same as the 2017 season.