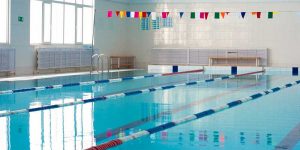 As public aquatic venues begin to reopen, the Centers for Disease Control and Prevention (CDC) has released guidelines for the safe operation and use of public pools, hot tubs, and water playgrounds.
Public aquatic venues can be operated and managed by city or county governments; apartment complexes; membership clubs such as gyms; schools; waterparks; and homeowners' associations.
Venue operators are encouraged to consult with local health officials to determine if and how to implement these guidelines and adjusting them to meet the unique needs and circumstances of specific areas.
Included in the CDC's updated guidelines are the following measures:
Promoting actions that curb the spread of COVID-19;
Maintaining healthy environments and operations; and
Preparing for when employees and/or visitors get sick.
For more information on the guidelines, visit www.cdc.gov/coronavirus/2019-ncov/community/parks-rec/aquatic-venues.html.