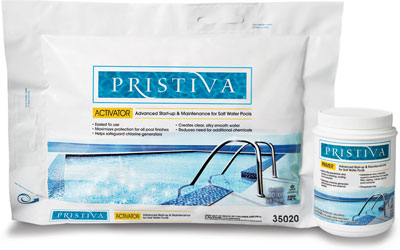 Pristiva, a manufacturer of saltwater pool care products in Overland Park, Kan., has formed a distribution partnership with Backyard Brands, a manufacturer of water care products in Markham, Ont., to be the company's exclusive Canadian distributor.
"Partnering with Pristiva allows Backyard Brands to offer a complete pool care system that has been specifically designed for saltwater pools and supports our goal of healthier, more natural pool care," said Dennis Gray, president, Backyard Brands. "This agreement will allow our dealers to participate profitably in the saltwater pool boom and compete more effectively."
The saltwater maintenance system contains two products, Pristiva Primer and Pristiva Activator, which work together to provide complete saltwater pool care. The primer is used for pool startups, conversions and periodically throughout the season, while the activator is added at startup and throughout the season to establish and maintain salinity levels.
"By creating breakthrough products for saltwater pool care and making them available through Backyard Brands' network of specialty pool retailers, we're providing Canada's growing number of saltwater pool owners with unparalleled convenience and results," said Bob Harper, Pristiva's general manager.