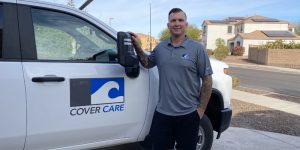 Cover Care, specializing in installation and maintenance of automatic pool covers, has added the Phoenix, Ariz. market to its list of locations.
Cover Care technicians are trained to service and repair all brands, makes, and models of automatic pool covers.
"All Cover Care service vehicles are strategically laid out and stocked with parts to service all makes and models of auto cover which results in a 98.1 per cent first visit completion rate," said Cover Care director of operations Jacob Bloss. "So we are very pleased to now be able to offer installation and maintenance services to auto cover owners in Phoenix."
The new location is run by Ryan Clark, a seasoned professional who has installed more than 1600 covers over the past 15 years.
Cover Care now has specialists in more than 30 cities that partner with pool builders, retailers, and service professionals looking to outsource the installation and maintenance of automatic pool covers.
"Cover Care also repairs covers that won't open or close, covers that are crooked, and systems that make usual noises or aren't working properly," says Clark.