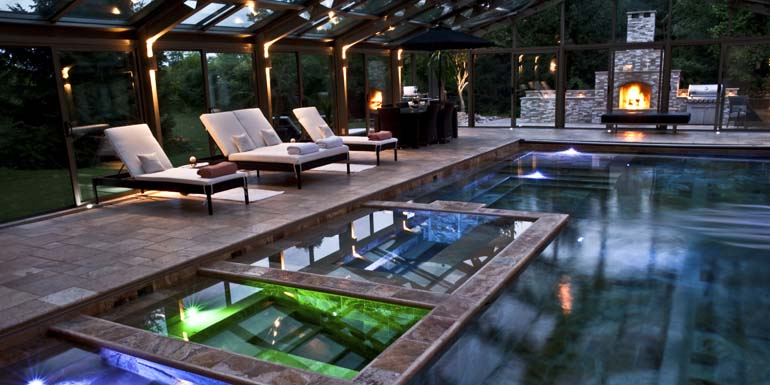 By Barry Justus
Generally, pools are constructed with little, if any, regard for energy conservation; however, with a little effort from the contractor and an intelligent investment by the client, this situation can be remedied.
Poolscape, for example, was approached by a client in the small community of Georgetown in Halton Hills, Ont., who wanted a unique project; the idea was to build a luxury indoor pool that was extremely energy efficient. The first step was similar to any other pool installation—configuring its design. However, where it differed from most typical pool installations was the importance of balancing the needs for conservation, efficiency, esthetics, functionality, budget and economics, which can be quite challenging.
There are a number of key elements and variables that must be controlled to achieve maximum energy efficiency, including:
Overall design (e.g. site, location, solar, wind, indoor or outdoor);
Insulation (e.g. building, pool shell, plumbing and pool cover);
Heating and cooling (e.g. geothermal, load sharing and radiant heating);
Electrical (e.g. variable-speed pumps, timing, automation and lighting);
Hydraulics (e.g. pipe sizing and location); and
Water management (temperature, sanitation, evaporation and capture).
The combination of these design elements, available technology and project management will result in significant savings for the client over the life of the project. In this case, the overall goal was to add a 186-m2 (2,000-sf) addition to the home as well as a fully tiled lap pool, chill pool, stand up hot spa, steam room and 111-m2 (1,200-sf) underground bunker, all without increasing the client's energy costs.
To achieve this goal, a combination of proven methods were implemented; however, there is a fine line between achieving maximum energy efficiency and maximum economic efficiency.
The efficiency challenge
This particular project was located in an area with no natural gas, a short summer season and an influx of black flies in the spring. The design process spread over eight months allowing for proper site investigation and exploration of various options.
An outdoor pool was quickly ruled out. After much debate and research, it was decided the most energy-efficient solution was to combine all of the best elements of an indoor and outdoor pool.
The pool location and environment are in constant battle with a project's overall energy efficiency. Outdoor pools lose much of their energy via evaporation and conduction, while indoor pools are even less efficient, as indoor air quality must be maintained in a narrow range of temperature and relative humidity so the environment remains comfortable for the client. On top of this, pool water constantly evaporates in an indoor pool setting, which takes heat and moisture from the pool and places it into the surrounding air. This air must then be conditioned to reduce moisture content.
In an ideal world, the most efficient pool is one that is shut off and contained in a Thermos-style bottle. This insulated, isolated body of water does not evaporate or lose heat, and has maximum hydraulic efficiency. This is the level of efficiency the design team hoped to achieve when the pool was not being used.
In the real world, people swim in the pool, water evaporates, pumps are moving water, water features are operating, hot spas are heated and chill pools are chilled. To achieve maximum design efficiency, a balance needed to be struck between the needs of the ideal environment and reality.