Automation
A 32-zone automation system was installed to allow maximum control on energy efficiency. With this system, the client can manage all functions from a touch pad in their kitchen, or by remote in the pool room.
The pump run cycles were automated to maintain the minimum flow necessary to achieve proper water chemistry and turnovers; cleaning cycles were programmed to operate at night to take advantage of lower electricity rates. Where possible, the heating and chilling cycles were also timed to run during the night for the same advantages. All lighting features (both outdoor landscape and indoor) are controlled by the automation system to maintain ambiance and minimize consumption. All of the lighting is LED or low-voltage. For safety reasons, the automated pool cover was not connected to the automation system, as it uses a turnkey operation for opening/closing.
All blowers and jet pumps have built-in timers, which turn off the equipment after a certain period of time, while a series of automated valves control filter, vacuum and chemical distribution cycles. Temperature controls for each body of water are also fully automated and connected to the geothermal system. Waste water collected from dehumidification is also automatically recycled back to the pool.
Geothermal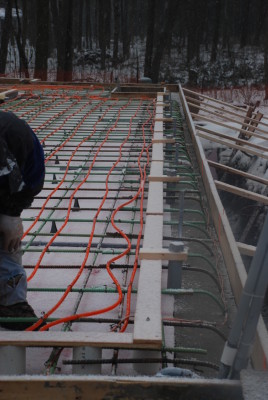 The client's home had an inefficient propane heating system, as well as an electric air conditioning system. To improve heating/cooling efficiencies for the home, and the project, a shared-energy geothermal system was installed.
To comfortably heat the indoor pool environment, as well as the pool and hot spa water, radiant in-floor heating was installed in the pool deck [bunker ceiling]) and throughout the pool floor. The system uses spare heat from the geothermal house heating system to heat the pool. Water in the chill pool is also cooled via the geothermal system.
Further efficiencies are achieved by taking the waste heat from the chill pool and adding it to the hot spa, and vice versa. Combining the home and pool systems saves large amounts of energy.