Bunker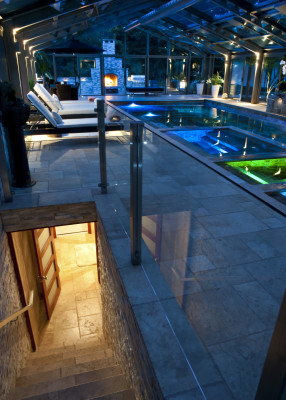 A full-depth engineered underground concrete bunker was constructed surrounding the entire pool, offering a number of energy efficient aspects. For example, the bunker space located under the pool deck allowed all the plumbing, walls and floor space to be insulated. It also acts as a barrier that separates the various bodies of water from direct contact with the surrounding cold earth.
All of the pool's mechanical, electrical, automation, HVAC, irrigation, lighting and geothermal equipment was housed in the bunker. This allowed the duct work to be installed in an insulated air space, rather than in the ground, as in a standard indoor pool installation. It also minimized plumbing runs by allowing the equipment (e.g. pumps, heaters, etc.) to be installed as close as possible to the aquatic features.
When all was said and done, there was even enough space left over to create storage, change, shower and steam room facilities, toilet and sink amenities and a large work space.
Equipment and plumbing
The seamless integration built into the equipment and plumbing systems was designed to maximize efficiency, resulting in substantial energy savings. For example, the variable-speed pumps run at 600 revolutions per minute (rpm) to provide the minimum water flow required to operate most project components. Full-speed operation (3,450 rpm) is limited to cleaning cycles and maximum hydrotherapy on spa jets.
Each aquatic feature (e.g. pool, chill pool and hot spa) was designed to operate on its own dedicated circulation system, with each having its own cartridge filter and variable-speed pump.
Suction lines are 76 or 101 mm (3 or 4 in.) as required, and pressure lines are 51, 63.5 and 76 mm (2, 2.5 and 3 in.). The system was designed for suction velocities of 1.37 metres per second (mps) (4.5 feet per second [fps]), and pressure velocities of 1.98 mps (6.5 fps). Using the proper size of pipe, along with minimizing fittings and pipe lengths, the hydraulic system's efficiency and safety can be maintained.
The pools are interconnected through an in-floor cleaning system, which allows the three pools to share the same salt water sanitizing system. Distributing water through the floor of the pools also prevents thermoclines from developing. The in-floor warm water returns distribute clean water from the bottom of the pool, allowing natural convection currents to distribute the heat evenly throughout the pool. This process is reversed in the chill pool.
The equipment used for this project includes:
Seven variable-speed energy-efficient pumps;
Three cartridge filters;
A salt water sanitizing system;
An electronic water leveler (fill-sensing device);
An in-floor cleaning system;
Eight LED lights in the aquatic environments;
A 32-zone automation system; and
An automated pool cover.