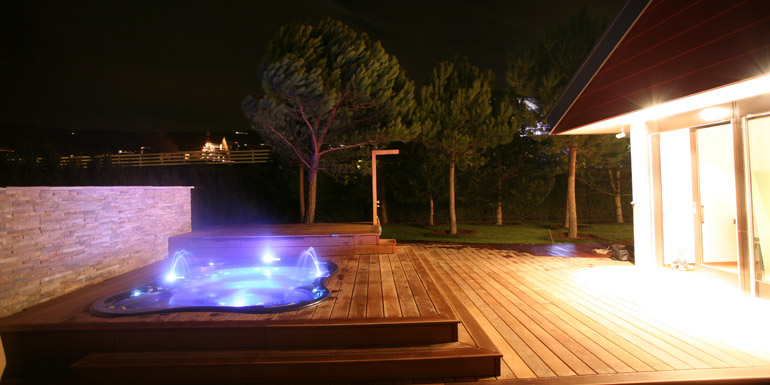 By Vic Walker
As the attraction with outdoor living continues to evolve, one design element that has seen increased popularity is the backyard water feature. Not only do water features add a natural ambiance to any backyard setting, they can be easily added to most landscape designs. Many water features are part of a pool or hot tub installation. Modern swimming pool and hot tub designs can incorporate a variety of water features that give the backyard character and allow homeowners to develop an emotional bond with their outdoor escape. For instance, some water features are often integrated into the design of major pool components such as raised spas, which spill over into the pool. This creates a nice transition between two functional zones and adds a tremendous amount of character to a design.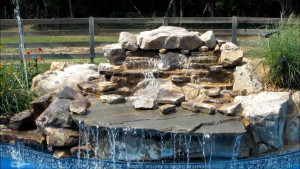 When used as a separate design component, water features can provide a stunning visual and audio element to any backyard landscape. From sheer descents and natural babbling brooks to contemporary laminar streams, there is a large variety of visual and audio options the consumer can select from. As of late, swimming pool water features have also become more sophisticated. For example, many of the water features used today can be controlled remotely via smartphone, using an app, or by a separate dedicated remote. Further, many swimming pool water feature designs also typically include multi-colour light-emitting diode (LED) lighting that can really make them 'pop' at night. LED lighting systems can also be linked together to provide colour co-ordinated light shows to further enhance the backyard. All of the above has helped water features become a growing part of any outdoor design, and not just when a consumer is putting in a pool.
As water features continue to grow in popularity, many companies are also creating standalone designs that are easily added to new or existing landscapes. These self-contained water features or fountains can be easily installed in flower beds or on decks and patios to add the natural sound and ambiance only a water feature can provide. As new designs emerge and consumer demand grows, water features will continue to have a large role in outdoor living designs.
Hot tubs get in on the trend
In recent years, portable hot tubs have also joined the water feature design trend. While they have been an integral part of landscaping and pool designs for many years, the growth of the portable hot tub industry, along with the growing popularity of water features, has resulted in the increased use of fountains (as they are sometimes called) in hot tub design.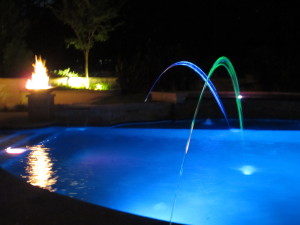 Taking a cue from many pool designs, hot tub manufacturers are now offering a variety of water feature options for consumers to choose from. These new features are aimed at adding a visual and audio component to the hot tub to enhance the overall hot water bathing experience. Many of these water features can be used (with the cover off) when the hot tub is not in use to provide an outdoor space with both visual and audio ambiance. Some hot tub manufacturers offer dramatic fountain designs that easily double as an outdoor water feature and, when accompanied by multi-colour LED lights, their appearance at night can be further enhanced with soothing colours and dynamic light shows that can spice up an evening gathering.
As there are a wide variety of styles and designs on the market today, this article will explore some of the various types of water features or fountains found in portable hot tubs.