THE BALANCE OF FIRE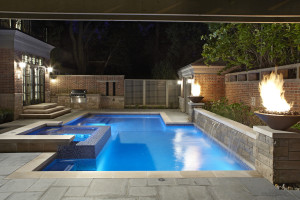 Just as water features are a key element in creating a natural tie between the backyard and nature, the use of fire can also add an alluring touch. When used in outdoor design, fire tends to provide a more exotic feel to the backyard.
Fire elements are increasing in popularity and are available in many forms to fit any outdoor design. Fire pits are one of the most popular and are a common design element in most outdoor compositions as they create a great social place for family and friends to gather. Outdoor fireplaces are also becoming a focal point in many outdoor landscapes.
The use of fire elements in pool design have also increased as many of today's projects combine water and fire features to create stunning backyard retreats. Many unique options are available to match any outdoor design and/or décor. For instance, the element of fire can be integrated into a table or even used as a standalone feature.
Most of these features are fuelled using the same type of propane tank found on the family barbecue, while one of the latest trends has seen the growth of biofuel outdoor fire features.
Hot tub water features
Even though hot tubs have been around for many years, water features for hot tubs are in some ways a relatively new option.
It has only been in the last decade or so when water features were first installed on hot tubs. In fact, early water feature designs were typically modelled after their larger counterparts found in the pool industry. They were obviously scaled down in size, and the overall design was adjusted to accommodate the hot tub manufacturing process; however, early flume designs were not that sophisticated and were often full of turbulence as they used valves to divert hydraulic energy from the hot tub's jet pump system. These valves also served as a flow control for the water feature. As these designs were successful in providing the visual and audio appeal consumers sought after, the water feature trend was off and running.
Since original hot tub fountain designs were influenced by what was used in pools, it was only natural that they looked and sounded similar. Most early designs had flumes (e.g. a blade of water) similar to what pool designers call a sheer descent. However, as mentioned earlier, due to the high water flow associated with hot tubs, these flumes were full of turbulence and not as elegant in nature. The acoustics were not great either as the sound from the hot tub's pump was often louder than the water feature itself. Further, the very nature of hot tub design did not allow the water feature to be placed high enough to create the proper effect. Instead, they are angled upwards to allow more area for the water flume to flow or form.
Pumps and design
In an effort to improve the designs—both visually and aurally—hot tub water feature components and systems are becoming more sophisticated. For instance, some higher-end manufacturers are using small magnetic-drive pumps to power the water features. These pumps can be found in many water management systems and are sometimes referred to as circulation pumps. Although this is an added cost, magnetic-drive pumps create less turbulence, thus help to create stunning water features with better audio characteristics.
They are also more energy efficient and allow the homeowner to run the water feature more often without the need to operate the hot tub's larger jet pumps. This configuration allows homeowners to use their hot tub as an outdoor water feature and helps integrate it into the landscaping more effectively—similar to fountains and water features in pool design.
As water features became more popular, many hot tub manufacturers created unique designs specific to the hot tub environment. These took into account the hot tub manufacturing process, the limited space available, and even special body designs to help remove unwanted turbulence. Further, some hot tub component manufacturers created entire water feature product lines specially designed for the marketplace, including some of the standard shapes and forms mentioned above, as well as unique designs with additional functionality (e.g. interchangeable flumes, architectural sconce forms, and water features built into grab handles).
Installation
Water features are typically mounted as high as possible on the inside wall to allow the flume to 'develop' or form. Most hot tub manufacturers will create special angled landings to help with the water feature's functionality. Sometimes the goal is not only to create a relaxing ambiance, but to also allow some tactile interaction with the water feature. For example, some blade-style fountains can be installed so bathers can sit below the flume as it pours a soothing, gentle sheet of water over them.
In contrast, some manufacturers have fountains that work vertically and create a dramatic display that can be seen from far away. These fountains can project water 1 to 1.2 m (3 to 4 ft) in the air to provide an impressive audio/visual feature that can be enjoyed even when the hot tub is not in use. When enhanced with LED lights, these vertical moving water features are equally as impressive at night.
Water feature flumes and component designs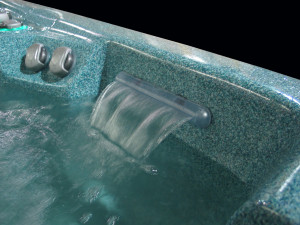 When considering water feature design, the 'flume' or the shape of the water is an important aspect. In addition to the water feature's visual esthetics, the flume also influences or creates the audio characteristics of the design. One might say the flume is the most important part of the water feature as it is the component that bathers 'experience' with their eyes and ears.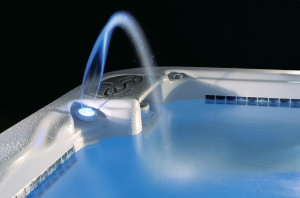 In hot tubs, the flume is created by passing water through various shapes called orifices. From narrow slits to different sized round holes, various geometric shapes are used to create a large variety of water feature designs. Flume designs for hot tubs include sheer descent, rods, fans, sprinkles, and even babbling brooks, which are all scaled down to fit the overall size of the hot tub.
The hot tub industry has been quite innovative in adding water features to new designs and there is a wide variety of options for consumers to choose from. In most cases, they are typically multi-part designs that are integrated into the plumbing. Since most hot tubs are made from a formed polymer material (acrylic, high-density polyethylene [HDPE] or polyethylene [PE]), most water features comprise multiple components. One-piece water features, however, still require a gasket, nut, and additional plumbing for installation. These typically have the orifice and decorative parts contained in one piece that sits on the front of the hot tub shell, while the nuts and plumbing are installed from the rear or backside through holes drilled in the shell.
For multi-part designs, the body of the water feature sits behind the hot tub wall (on the backside), and the front of the water feature, which contains the orifice and decorative trim, is installed on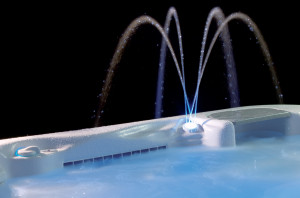 the hot tub's front wall. A simple hole or slot is drilled into the hot tub shell, and similar to one-piece designs, the water feature is mounted using a gasket, nuts, and silicone. The face is then screwed or glued into place, forming the front of the water feature. This is typically where the orifice is located. The plumbing is then connected to the pump and flow control valve. Some water features have flow control valves built into the body, but for most designs, a separate control is used.
To help understand the various styles or forms of fountains found in the hot tub industry, the following is a look at some of the most popular.