Pop-up water features
'Pop-ups' are the newest and most popular hot tub water feature. These designs use the energy from the hydraulic pump to raise and lower a centre component, which comprises a flume in the shape of a rod or small stream. Some manufacturers mount more than one in their hot tub design to create a balanced symmetrical look.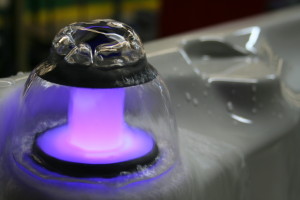 Recently, newer 'pop-up' designs have emerged with variations in flume designs aimed at mimicking the look and sound of natural water features. For example, new bubbler and fan-shaped flume designs offer a fresh, exciting variation to the standard laminar stream. These water features also create pleasant audio and add to the relaxing ambiance of the hot tub experience.
This flume style is manufacturing friendly for hot tub OEMs as they typically have a small footprint, elevate during use to enhance design and presence, and are capable of being illuminated with LED lighting. Further, they can be used in pairs or standalone to create an exciting balanced design.
Specialized water features
The hot tub industry has driven or created several innovative water feature designs specifically suited for hot tubs. Many of these water features (e.g. waterfalls built into handles or shaped like small sconces) are easy to install and are designed to be compatible with the manufacturing process.

Recently, large overflow waterfalls have also been developed to allow a greater volume of water to spill over an edge. These waterfalls will pool water in a recessed area that is built into the hot tub shell that follows the contours of the water feature body design. This larger volume of water creates an impressive sheer descent and more natural sounds than earlier, smaller designs.
Another interesting variation is interchangeable flume nozzles or developers. These designs allow consumers to change the look, feel, and sound of the water feature. Consumers can have rain-like streams, blade-like flumes, or even recreate the sounds of a babbling brook. These designs are integrated into the configuration of the hot tub shell with some water features (e.g. babbling brook) requiring special formed geometry to function properly.
Another new hot tub water feature that takes its cue from larger architectural designs is the rotating sphere in water. One manufacturer in particular is working on a smaller design that is specifically configured for hot tubs. It comprises a small glass globe with a cracked-ice finish. The sphere spins on a bed of water while multi-colour LED lights illuminate the feature from below. The sphere's rotational speed is controlled via water flow, using the same style on/off valve that is used to control the flow on other designs.
The future of water features
As hot tubs continue to evolve, water features will always be an integral part of their design. The relaxing sound of water, accompanied by mood lighting and music, make for the perfect backyard getaway. Further, new designs and improvements in pumps and control systems, along with more sophisticated LED lighting options, will likely lead to animated water features that allow pool/hot tub owners to have their own version of the famous 'Bellagio' fountains in their own backyard.
Today, lighting and water features from multiple backyard elements can be joined together into one cohesive design. Whether the homeowner likes to hear the soft patter of a natural creek or the strong sounds of a sheer descent, there are many options available for creating the perfect backyard water feature.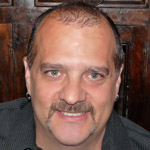 Vic Walker is the product design and marketing manager for Custom Molded Products Inc., a manufacturer of plastic components for the swimming pool, hot tub, and bath industries in Newnan, Ga. He has almost 20 years' experience as an industrial designer and more than 16 years' experience in the pool and hot tub industry where he has been awarded more than 15 patents for his contributions. He can be reached via e-mail at vwalker@c-m-p.com.