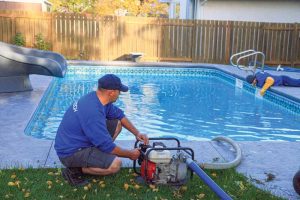 By Tristan Marks
Aqua-Tech has been Winnipeg's leading installer for swimming pools since the late 1970s, proudly offering high-quality water care, on-going service, and extensive maintenance support. Building from the superior quality of their pools, they now also offer a line of hot tubs, stunning pool remodels, and even luxurious bathroom renovations. They also provide beautiful, robust outdoor patio furniture, and custom outdoor kitchens.
As a company, Aqua-Tech prioritizes its network of relationships; both with its staff, clients, and the industry at large. Kathi Belcourt, the company's director of sales and service, says when a business has a culture rooted in caring, profitability comes naturally.
"We have a seasonal staff of 125 and a full-time, year-round team of 26," says Belcourt. "Our supplier partners are also great at helping us diversify to accommodate the changing demands of our consumers, as well as being innovators in the industry—they help us look smart."
Building lasting relationships
This focus on a lasting relationship also extends to the client, too. The completion of any project is often just the beginning of a relationship with Aqua-Tech, explains Belcourt.