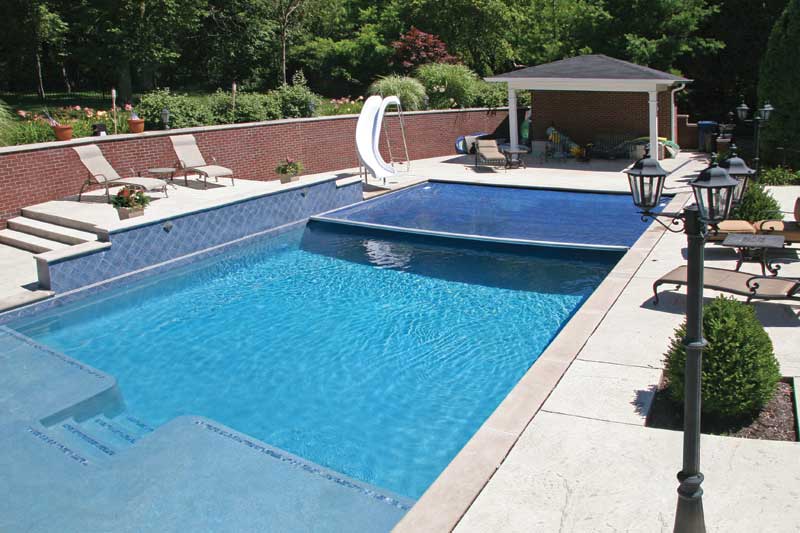 Depending on where the homeowner lives in North America, the pool season is unfortunately much shorter in some regions than it is in others. That said, many homeowners would love to extend the pool season into the fall and start using them earlier in the spring by being able to easily open and close them when the temperature is mild. Automatic pool covers lend themselves to lengthening the season while also providing safety, beauty, cost savings, and convenience to pool owners. As a result, savvy pool professionals are capitalizing on these benefits to help them sell more of these products.
Benefit 1: Extended season
Today's homeowners are looking for maximum enjoyment from their pool investment. This means spending as much time as possible in the water. Understanding this reality is why the demand for automatic pool covers is growing exponentially. Offering homeowners the convenience of opening and closing the pool—during warm or cold spells—can help make the season longer and allow families to get more enjoyment out of their backyard investment.
One no longer needs to completely close the pool for the winter at the first signs of snowfall. These covers open and close in less than one minute, and do not require the consumer to store the safety cover in their garage or pool house during the summer.
Allan Horwood, owner of Pool Patrol in British Columbia, says his customers are really interested in maximizing the investment they make in having a pool installed.
"We have a lot of customers that not only want to extend their swimming season, but also want to use their pool year round," says Horwood. "It all starts with what our team calls the 'NPO syndrome' (new pool owner syndrome). In fact, some clients—after building their pool—want their water heated to 32 C (90 F) so they can swim on New Year's Eve. If they want to do that, they are going to need an automatic pool cover."
In addition to extending the season, automatic pool covers help maintain the cleanliness of the water and, at the same time, keep water chemistry in check. Pool professionals who are selling these products should take the time to explain these benefits to homeowners. This is especially important during the fall when trees start to shed their leaves.
"Our favourite pools to open in the spring were those with automatic pool covers, as we would rarely find more than two worms in the water," says Horwood, whose company used to service pools on a regular maintenance route. "Homeowners realize these savings as many may pay upwards of $800 to clean a pool.
"Although there is an initial investment to make, there is also immediate savings built into having an automatic pool cover installed. Once a customer understands the benefits of owning one, they become much easier to sell."