Benefit 4: Beauty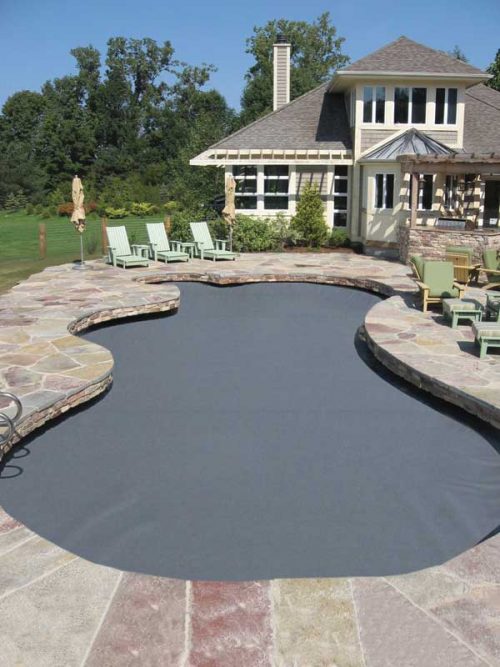 Although it is not necessarily among the top reasons a homeowner will choose an automatic pool cover, the product does have an added 'esthetic' bonus as it essentially disappears when it is open. This is another benefit which can help a pool professional 'seal the deal' when selling these products—especially to new customers who are having a pool installed.
In fact, pool professionals should be encouraging those customers who are contemplating an automatic cover to decide prior to the construction of their pool. This allows the cover to be installed under the coping, which blends the track into the pool's architecture. If the homeowner waits to add the automatic cover later, they will need to have a track installed on top of their deck. For some homeowners who are concerned with the esthetics of their backyard and, more specifically, their pool area, this may not be as appealing.
"There are a lot of winter covers some homeowners put on their pool that aren't the nicest to look at during the off season," says Horwood.  "In some regions, winter can be very long, leaving these homeowners looking at something undesirable in their backyard for several months at a time."
Finally, with so many colour choices available today, automatic covers can be customized to complement the homeowner's backyard design and complete the look of the entire pool area.
Benefit 5: Installation outsourcing
Installing automatic pool covers does require a certain amount of skill and ability. As with any installed product, the question pool professionals need to determine is whether they want to sell, install, and service the automatic cover, or simply sell these products and outsource the installation and ongoing service.
Some pool professionals sell and install automatic pool covers, while others decide to outsource both the installation and the maintenance. With tight labour markets, many pool professionals are now opting to outsource the installation and service of automatic pool covers so they can focus on their retail or new construction business.
Even builders with service departments can outsource this work (treated as a subcontractor) as it allows these businesses to profit from selling automatic covers, but focus on their core competency.
Like any installed product, service and maintenance are necessary for every automatic pool cover. Those companies that have a service department might prefer to do the work, while others may favour outsourcing these particular jobs. For example, if one's company does not work on automatic pool covers daily or even weekly, a simple repair that should typically take 10 to 15 minutes might take a regular pool professional more than an hour to perform. As a result, this can keep the business from taking on more profitable service calls. It all comes down to looking at one's business, their market, and the profitability of taking on the installation and service of automatic pool covers.
Fortunately, there are many professionals throughout Canada and the U.S. that now install and maintain automatic pool covers exclusively. It is now much easier for pool professionals to subcontract this portion of the job, which allows them to not only offer automatic pool covers to their customers, but also profit from selling them without having to train staff or have employees on hand to install and maintain these products.