By Jennifer Gannon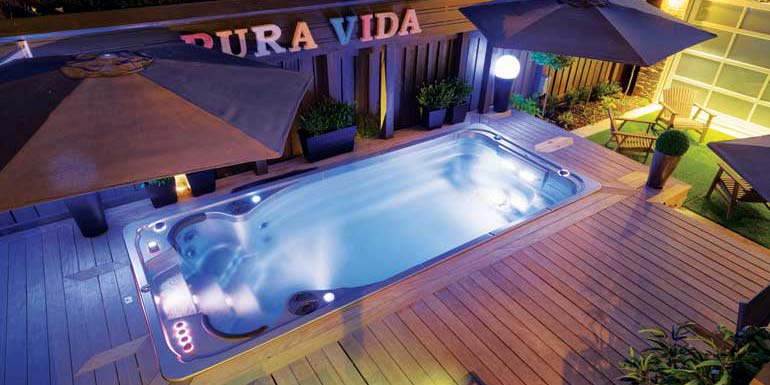 Imagine being able to offer clients the benefits of a large conventional pool in an easy-to-install miniature version? There is no need to imagine as this is possible today thanks to the evolution of the swim spa, which enables pool and hot tub retailers the ability to provide clients a means to swim—whether for those who do not want a traditional pool, or for those who cannot have one installed in their backyard due to space restrictions.
Having a swim spa at home is ideal for those whose needs are centred on a healthy lifestyle. As it is widely known, swimming is a low-impact exercise that can help improve cardiovascular health, and the ability to perform this exercise in a swim spa, whether gently in place or more rigorously against a swift current, is convenient in many ways.
Swim spas are a small footprint vessel typically made of acrylic and fibreglass or steel walls and a vinyl liner, as well as custom concrete. They are designed around the swim current that is created by powerful, jet pumps which produce a flat and uplifting water flow to allow bathers to swim continuously up to 13 km/h (8 mph) without turning. The degree of resistance is variable—typically controlled by a simple dial—so swimmers can determine the pace. Swim spas are fun and safe for all ages, shallow enough for most children and non-swimmers, yet deep enough to satisfy the most serious swimmer, jogger, or water aerobics enthusiast.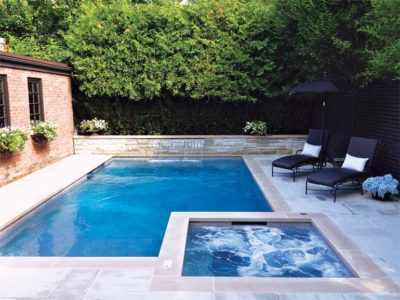 Further, swim spas are the perfect urban solution, as they offer a big swim experience without taking up a lot of space. They are typically 3 to 4 m (9.8 to 13.1 ft) wide by 5 to 7 m (16.4 to 23 ft) long, and are either craned into position (in most instances) or built on-site from a kit for basement or rooftop terrace installations. Custom concrete swim spas are built inground; therefore, access to the property with excavation equipment is required.
Most swim spas come with a safety thermal cover which helps reduce maintenance by protecting the water from airborne debris and precipitation and, when used regularly, it can help to reduce operational costs. Further, they also allow the swim spa to meet most city bylaws for a water feature to be secured with a lockable cover. As a result, the homeowner does not need to have a fence enclosure built around the unit, which is a requirement for pool installations. Inground concrete swim spas usually require a fence enclosure permit, as the custom dimensions of these vessels are typically larger than a prefabricated unit. This also means it can be challenging to blanket the swim spa using a standard safety cover.