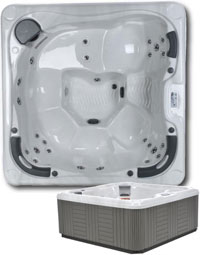 Dream Maker Spas in Lake Mary, Fla., and The Leisure Group (TLG) in Grimsby, Ont., have entered a strategic sales and marketing alliance to promote each other's hot tub products.
The Celebrity acrylic spa line, previously manufactured by Leisure Bay Industries (a sister division of Dream Maker), will now be produced in TLG's Sunrise facility under the Dream Maker name.
"We are excited on several fronts regarding this new partnership," says Dream Maker's Dave Czech. "Some natural synergies already exist between our two organizations, primarily due to our close proximity and shared commercial strategies."
As part of the agreement, Dream Maker has become the exclusive representatives for the Freestyle line in the southeastern U.S.
"The Dream Maker team, headed by Dave, is well entrenched in the southeast marketplace," says TLG's Jack Layfield. "We look forward to the contributions they will bring to our sales and marketing efforts."