By Terry Arko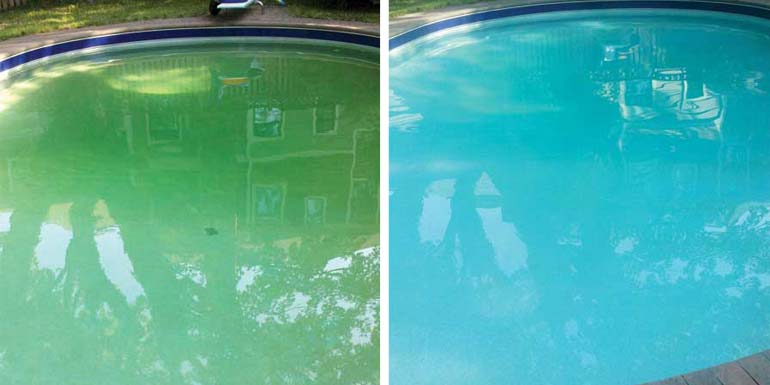 When dealing with pool stains, it is important for service professionals to keep in mind they are not always cut from the same cloth. Therefore, it is critical to diagnose the problem first before providing a broad-spectrum treatment. Take the time to review the origins of common pool stains and determine what the likely cause is for each specific case before determining how it should be treated and removed. This article will provide a quick refresher for service professionals on some of the more common types of pool stains and what the best procedures are to remove them.
Copper stains (blue/green)
Copper discolorations are probably some of the most common stains found in pools. The introduction of copper to pool water can come from algaecides, heat exchangers, fill water, older copper plumbing, etc. The good news is most cases of blue/green staining can be prevented by following dosing charts on algaecides and maintaining a proper pH level in the water. However, as most service technicians can attest, this does not always happen.
There are liquids and dry granular treatments that work well to remove stains from all types of pool surfaces. The granular stain removers that are most commonly used in this scenario are citric acid and ascorbic acid. The granules do a good job of lifting the stain, but require the addition of a sequestering agent to help the filtration system trap the removed metals from the pool water.
Be aware some liquid stain removers also contain phosphoric and/or phosphonic acid, which will add phosphates to the pool water which will need to be removed at a later time. There are non-phosphate containing liquid sequesterants, but they are used to help remove metals that are already in the water. Non-phosphate sequesterants are only effective on new stains that have not yet set into the surface.
Do not mistake copper green for algae
Pool owners will often go into a pool store and simply say their water has turned green. To help the customer in this situation, a retail associate may immediately sell the consumer a copper algaecide to remove 'algae;' however, without further investigation, this will likely make the problem worse. When pool water turns green, it is extremely important to ask the customer the following question: "Is the water cloudy and green or is it clear and green?"
If the water is clear, but has a greenish cast then it is a sure sign of copper in the water. A good non-phosphate sequesterant will work to clear the copper (green) to the filter. If algae are the reason for the water turning green, the pool will also appear cloudy and the walls and floor will be slimy to the touch.