Purple haze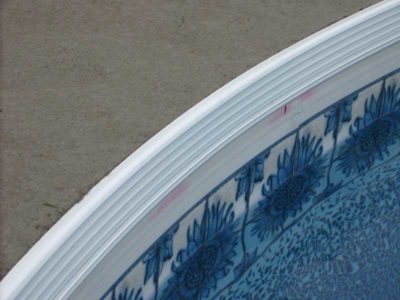 Copper cyanurate staining happens when there is a cyanuric acid (CYA) level greater than 100 parts per million (ppm) that combines with copper in the water to form a purple precipitant along the pool surface, tile line, skimmers, and pool cleaner. This staining problem will continue to persist until the CYA level is reduced to approximately 50 ppm.
Once the CYA is lowered, the staining usually goes away as well; however, any affected areas may need to be brushed to remove some of the more stubborn stains. When the pool is drained to lower the CYA, it addresses the copper in the water as well. That said, a water test should still be performed to check for any remaining copper residual.
Iron stains
Iron stains will have a brown appearance, and if there is iron out of solution, the water will have a brownish tint. Iron can make its way into the pool in a number of ways. Some pool heater headers are comprised of iron and over time the protective layer can become worn down, exposing it to the pool's chemistry. If the pool is equipped with an erosion tablet feeder that is plumbed in without the proper check valve in place it will erode the header as well.
Lawn care professionals can also inadvertently introduce iron into the pool via fertilizers. Well water, however, is the most common way iron gets introduced into the pool. In many areas of the country, people draw their water from wells which contain metals.
Iron stains in the pool can be removed using the same method described above for copper stains. In addition to removing the stains, be sure to balance the pool water and determine the source of the iron to minimize the chances of any further staining.
If the source is well water, there could be iron bacteria present; therefore, starting a routine maintenance program that consists of adding a sequestering agent on a weekly basis is highly recommended. It would be preferable to use a sequestering agent without phosphates to keep phosphate levels under control.