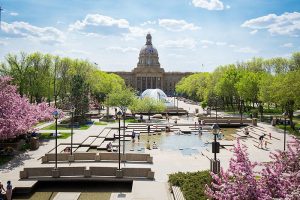 Alberta's historic legislative building is receiving $20 million from the provincial and federal governments to upgrade the landmark's water features.
According to a report by Global News, this funding will kick-start efforts to "repair and reimagine" its pools and fountains, walkways, and decking.
The water features were built in the 1970s and include a reflecting pool, an ornamental dome fountain, and four small connected terrace pools.
The report states $10 million in funding is coming through the Investing in Canada Infrastructure Program (ICIP), with the federal government contributing $8 million and the Alberta government providing $2 million. The other $10 million is coming from the province budget's 2022 capital plan.
Funding from the province is going towards fixing the water-related mechanical and filtration systems, completing upgrades to meet current building codes and health standards, repairing the dome fountain, and redeveloping the wading pools.
Funding from the ICIP is going towards the legislature walkways and concrete decking around the water features, and will help replace the piping and controls for the dome fountains and reflective pool, as well as the membrane on top of the 97 Avenue underpass.