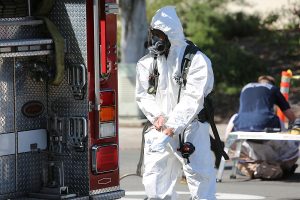 Investigation revealed an accidental mix-up of muriatic acid and chlorine in a pool's piping to be the reason for the Oct. 7, 2022, incident where seven children were hospitalized post swimming in a pool at YMCA Cape Cod, Massachusetts.
In a report prepared for YMCA by an investigating team of aquatic safety professionals, chemical spill was not the cause as thought earlier. It was the manual addition of chemicals to the pool due to a broken automated chemical feeder on the morning of Oct. 7, followed by muriatic acid being added later on the same day.
The organization claims it followed standard procedure of shutting down the pool, diluting the required chemicals, adding them directly into the water, and keeping the pool closed for an hour afterwards.
The investigating team of aquatic safety professionals reached the conclusion that the granular chlorine added earlier to the pool may not have completely dissolved, which led to the accidental synthesis of the two chemicals, and the creation of chlorine gas, affecting the seven children who had been swimming in the deep end of the pool.
According to a study published in the Journal of Occupational and Environmental Hygiene, the mixture of chlorine and muriatic acid, also known as hydrochloric acid (HCl), creates a gas harmful to the eyes and airways, and could be fatal.
The YMCA says they have already taken all required measures to assure the safety of anyone utilizing the pool, but they have not yet decided whether to reopen the pool. As of Oct. 20, the organization's automated chemical feeder has been fixed, and they will ensure the pool is closed when hand dosing is necessary.
Aside from partnering with the aquatics specialist at the YMCA of Greater Boston to create updated chemical guidelines and standard operating procedures, the organization also announced on-site training for YMCA Cape Cod staff members for using the automated chemical controller and chemical dosing system. Further, some staff members will also receive training to become certified pool operators.
YMCA will only announce a date and time of reopening once it gets full clearance from the state and local boards of health following the report submission.