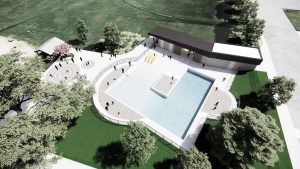 The city of Vernon, British Columbia, has not provided any updates on whether the delays in the replacement of the Lakeview Park Peanut Pool will result in additional costs for the $3.3 million project.
Construction was initially to be completed by summer 2023, but unforeseen setbacks in obtaining provincial approvals caused a delay in the project's start. Consequently, the city announced in January 2023 that work on the pool would not be complete by this summer. However, it said there was no new information on whether these delays will lead to an increase in costs.
The $3.3 million overhaul includes the installation of a new pool, a mechanical room building, a spray park, and a change room and washroom facility. Demolition work started in August 2022, and the East Hill splash pool was scheduled for completion this summer.
However, the delayed provincial approvals process finally led to require a shift from a skimmer to a gutter pool filtration system, and it is unclear whether this will add to the project's expenses.
The new pool basin's concrete form work is projected to be finished by mid-April 2023, and construction is expected to be mostly completed by the end of August 2023. Subsequently, pool equipment will need to be commissioned, and health permits must be granted before paddling activities can start at the pool.
The new construction timeline will not permit the pool to open in time for the 2023 summer season, disappointing residents who regarded the demolition of the old Peanut Pool—a beloved water feature enjoyed by generations since 1958—as the "end of an era."