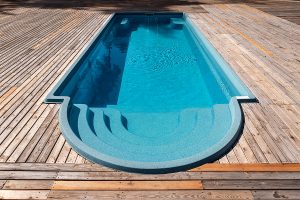 New York-based Latham Group Inc. is expanding its Canadian operations by building a fibreglass pool manufacturing plant in Loyalist Township near Kingston, Ontario, adding to the two plants it already has in Canada outside Toronto, which manufacture packaged pools, vinyl pool liners, and pool covers.
The company, which had been looking to increase its capacity to serve the Canadian and northeastern U.S. markets for some time, chose Loyalist Township because of its location between Toronto, Montreal and Ottawa and its easy access to markets in eastern Canada as well as the northeast and upper midwest of the U.S. Situated on 366 ha (148 acres) of industrial land off Taylor Kidd Boulevard, the 14,900-m2 (160,000-sf) plant is on its way to completion and it will be open to operations by the spring of the next year. It will allow Latham, which acquired Australian Narellan Pools in 2019, to produce more than 100 Latham and Narellan pool models. The storage of pool moulds finished pools, raw materials, as well as dust collection units will also be done on the plant.
According to Ottawa Business Journal, Sanjay Jain, Latham's fibreglass operations director in Canada, said: "This will be the largest fibreglass manufacturing facility for Latham and largest ever investment made by Latham in its 66-year history."
The company owns more than 30 manufacturing plants around the world making fibreglass and in-ground vinyl liner residential pools and components, including automatic pool covers and solid and mesh safety covers.
Jain also said the inground pool market is seeing a change in consumers' preferences toward fibreglass, a material which lends itself to better quality, easier maintained, more environmentally friendly, and in the long run, lower cost pools. They also require lesser amounts of chlorine because of the smooth, non-porous finish of fibreglass, he added.
According to Jain, the facility will be fully automated with a program logic controller (PLC) system, technology not common in the pool industry but with widespread use in the petrochemical industry, to improve material handling and safety.