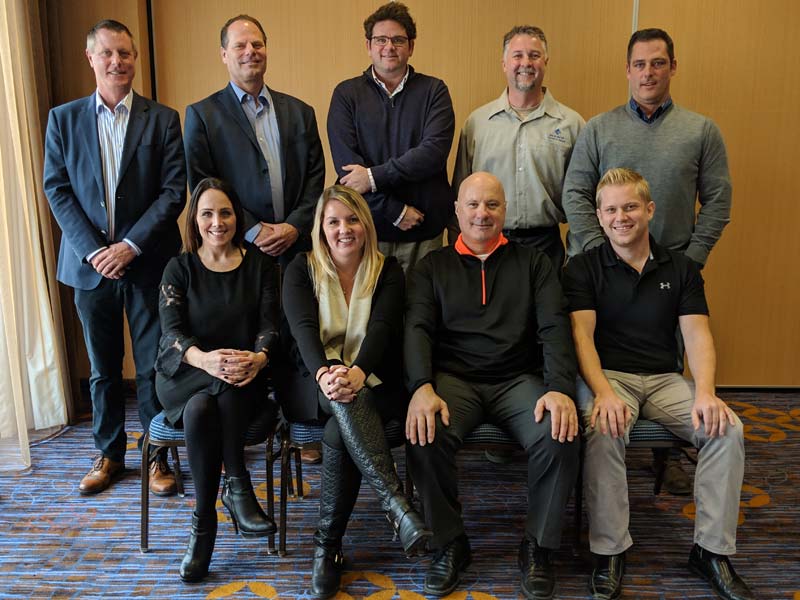 The Pool & Hot Tub Council of Canada (PHTCC) Toronto chapter welcomed its new board of directors and discussed plans to promote careers in the aquatics industry at its November annual general meeting (AGM).
Held at the Courtyard by Marriott in Markham, Ont., on Nov. 19, attending members unanimously approved the appointment of its new board, which is represented by Dave Warren (Total Tech Pools & Leisure), president, Brad Bryson (PPL Aquatic Fitness & Spa Group Inc.) vice-president, Rob Kamstra (Backyard Brands) past-president, and Michael Di Nardo (Oracle-RMS) treasurer. The directors include Nicole Gray (Northeastern Swimming Pool Distributors), Darren Hill (Pentair Aquatic Systems), Leigh Hinsperger (Hinspergers Poly Industries Ltd.), Randy Nemez (Rheem Canada), Crystal Lengua (SMP Ultralift), and Tim Pettman (Hayward Pool Products Canada Inc.).
A hot topic of discussion was the chapter's training, social, and fundraising events. According to Mette Yellowlees, Toronto chapter manager, unfortunately attendance was down for some of these functions. As a result, the chapter plans to survey the membership early next year to get a better indication of which type of events should be organized.
This year, the Toronto chapter again ran a strong media campaign through radio spots on 680 News and 98.1 CHFI to promote members and the PoolSaver variable-speed pump (VSP) rebate program.
"The PoolSaver program continues to expand," said Yellowlees. "In 2018, Hydro One Networks Inc., Veridian Connections, and Whitby Hydro joined the other 10 participating Ontario utilities, which include Kitchener-Wilmot Hydro Inc., Energy+ Inc., Waterloo North Hydro Inc., Toronto Hydro, Oakville Hydro, Burlington Hydro, Halton Hills Hydro, Milton Hydro, Hydro Ottawa, and Renfrew Hydro Inc."
This program allows participating contractors to offer a $400 instant rebate to eligible customers when upgrading their single-speed pool pump to a VSP.
The meeting also focused on the difficulty the industry has, as a whole, in finding enough workers and, as a result, the importance of marketing the aquatics industry as a viable career. In 2017, the chapter amended the budget and allocated $5000 towards industry recruitment to address this concern.
"The industry is faced with a declining workforce and losing out to other competing trades," said Yellowlees. "To combat this, we will be spending our allocated marketing budget to promote the industry as a viable career choice to students. While this plan has not been confirmed, we are looking at distributing brochures in high schools and colleges, as well as at job fairs, along with a possible billboard/radio campaign to support the effort."