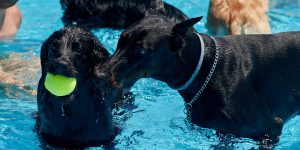 Although the dog days of summer are nearing the end, a Regina pool will go to the dogs next month—and vice versa.
The City of Regina is hosting its annual Dog Swim at Regent Pool on September 19 to officially close out the swimming season.
Registration for the event kicked off on August 25 and ends on September 10. Pre-registration for the event is required.
The event is open to dogs of all sizes, and runs between 10 a.m. to 4:15 p.m.
For dogs to be permitted to participate, they must be spayed/neutered, at least four months old and be up to date on vaccinations. Animals must be accompanied by their owner and have a valid pet license.
The city has also extended the swimming season at Regent Pool for an extra two weeks through September 18. The city's other pools will close after the Labour Day long weekend.