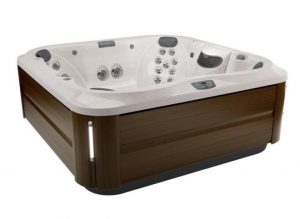 Faulty temperature sensors have resulted in a Government of Canada recall on some Sundance Spas and Jacuzzi Hot Tubs models.
The faulty temperature sensor can relay incorrect water temperatures and possibly lead to heat strokes and thermal burns if the water temperature is hotter than it indicates.
As of December 9, 2022, the company has received 185 reports of inaccurate temperature readings, 26 of which were in Canada. So far, the company has received no reports of injuries.
In such cases, consumers should use an accurate external thermometer to confirm the water temperature prior to entering the hot tub and should contact an authorized dealer to schedule a free repair.
This recall involves Jacuzzi® J-200™, J-300™, J-400™, and J-500™ Collection hot tubs and Sundance® Spas 680™, 780™, 880™, and 980™ Series spas manufactured between July 29, 2021, and February 9, 2022.  The model number and serial number are engraved into a silver plate in the equipment bay of the hot tub.
The recall is a joint one with Health Canada, the United States Consumer Product Safety Commission (US CPSC), and Sundance Spas/Jacuzzi Hot Tubs.