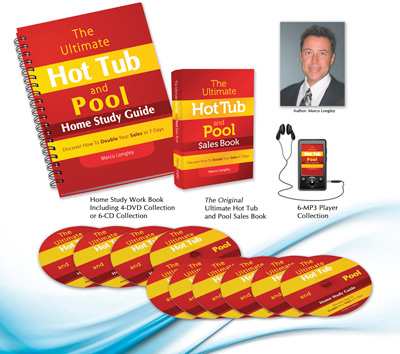 After the success of retail expert 's pool and spa sales training book, The Ultimate Hot Tub and Pool $ales Book, the much-anticipated DVD workshop and audio series is now available.
Based on the book's insights, the digital formats further the understanding of sales by providing a variety of techniques, strategies and exercises specific to the swimming pool and hot tub industry. An audio version of Longley's six-hour sales-training seminar is available in both CD and MP3 formats, which allows busy sales staff to listen at their leisure, while the DVD workshop makes staff training easier for retail store owners by providing a variety of training sessions. After watching the video, the accompanying 80-page, home study workbook can be used to test the staff's understanding of the new material presented in the training session.
For a limited time, Longley is offering one lucky PSM Online reader the chance to win a copy of the DVD workshop through his 'The Really Big Deal' giveaway. The package includes a copy of The Ultimate Hot Tub and Pool $ales Book, the audio set (MP3 or CD), DVD series and home study workbook.
To participate in the contest, visit www.top10salesandconsulting.com and submit your name and e-mail address. The winner will be announced on Oct. 30, 2011.