Customer-centric water care
The majority of pool/spa owners visit specialty retailers in need of chemicals or to solve water-related problems. To assure return business, it is important to have an educated, knowledgeable staff, state-of-the art water testing products and a water testing station that will create a positive experience for the customer. Here are the key ingredients to make this happen:
Educated staff
It is imperative for pool/spa retailers to invest in educating their staff. Training employees to achieve profitable results starts with a strong understanding of water chemistry and treatment. If this requires sending employees to educational seminars, regional trade shows, and completing certification programs, be sure to make this a line item in the company's annual budget.
Further, the more educated employees are, the more confident they will be in answering the consumer's questions. Thanks to the plethora of websites and blogs offering advice on every conceivable water condition, pool/spa owners become easily confused as to what the correct solution is. This is why they go to the professional—a pool/spa specialty retailer. And, the better experience they have, the more the business will profit.
Keep it simple
Water chemistry products can also become overwhelming for consumers, especially if a retailer tries to offer every chemical on the market. These products should be kept simple for the consumer to avoid confusion; therefore, it is important for retailers to decide which are the best sanitizers, water balance products and ancillary treatments to offer, and then train their staff on the features and benefits of each.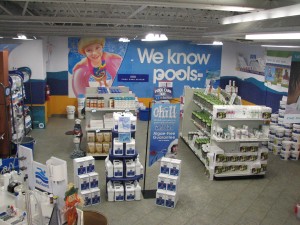 During the off-season, retailers should also take time to create a 'replacement chart' to help staff understand which products it carries and how they are similar to other brand names. Staff should also know the history of the various chemical brands available to enable them to engage in more educated discussions on the products they are selling as well as understand their compatibility. For instance, most sanitizers are oxidizers and considered hazardous chemicals. These products must be kept in a clean, safe and humid-proof environment, away from heat. Pool chemical containers should be dusted frequently, evidence of a clean and carefully maintained store, and material data safety sheets (MSDS) need to be maintained for all chemicals and kept in a readily available binder.
Water testing stations enhance customer experience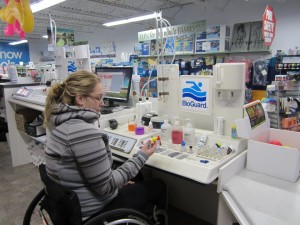 Retailers should also take the time to evaluate their water testing station. Does it look like a hodgepodge of testing reagents or is it neat and organized? Retailers should routinely inspect their water-testing reagents and tools and dispose of any expired products.
There is also an abundance of water-testing software and new equipment available to help retailers enhance their water-testing credibility with the consumer. In using this equipment, however, retailers must be sure it is calibrated regularly with professional manual water testing results. This will not only eliminate unwanted test results, but also prevent inaccurate information from being passed on to the consumer.
Finally, retailers should also keep a record of all the pool/spa water tests it performs. This documentation not only provides valuable historic information that can be shared with the consumer, but also provides retailers with a safeguard against any potential liability issues.