Hot tub immersion
Hot tubs are available in a variety of shapes and sizes—from single-person to large multi-bather units—and are one of the most common forms of hydrotherapy.
Most day spas feature hot tubs in their therapy regime, and many hotels and resorts offer these amenities to their guests. While most have experienced hot tubs in a commercial setting, the residential hydrotherapy market is continuing to grow and innovate. For instance, some models are designed to provide more of a 'soaking' experience, while others provide high entertainment value.
Many soaking tubs feature large whirlpool jets that create large swirling movements of water inside the vessel. This type of passive therapy is relaxing and soothing to the body, mind, and spirit. Other hot tubs are designed to heal and repair sore muscles in addition to relaxation. These hot tubs are beneficial for many different types of ailments, including heart disease, arthritis, diabetes, lower back pain, and sleep disorders.
In more recent designs, hot tub manufacturers and component fabricators have made improvements in many areas, with one of the most important being jet design. For instance, many companies now offer interchangeable and adjustable jets, which provide owners the freedom to customize the hot tub to meet their specific hydrotherapy needs. New jet designs such as easy-to-use, twist-lock mechanisms facilitate ease of removal and adjustment, making them interchangeable. Many new nozzle designs, which provide a wide variety of therapeutic options to the bather, have also been introduced. These allow hot tub owners to further customize their hot tub to meet their specific needs.
Hot tub jets are available in a variety of sizes and are measured by their diameter. While a wide variety of jet sizes and nozzle designs are available—some being very specific in nature—the following are some of the more typical jet categories and styles:
Deep tissue jets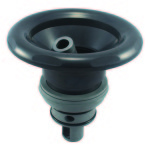 Deep tissue jets usually operate at 45 to 56 litres per minute (lpm) (12 to 15 gallons per minute [GPM]) at relatively high pressures (0.09 to 0.11 MPa [13 to 16 pounds per square inch (psi)]). These jets feature high nozzle velocities and can be air injected as well. The air injection can drastically increase the jet's velocity and can be turned on or off. When air is added, the jet feels more powerful, but is actually using less water. The water flow coming out of the jet nozzle is referred to as a flume.
Nozzle designs for deep tissue jets come in a variety of styles, but are usually directional in nature. These directional eyeballs can be adjusted to direct water flow to target specific areas in need of therapy. There are also a variety of large rotators that can be used to provide deep tissue therapeutic pulsing.
These jets vary in size, from 101 to 177 mm (4 to 7 in.) in diameter, and provide relief to large muscle groups such as the upper and lower back (including neck), thighs, calves, and forearms.
Soft tissue jets
In contrast, soft tissue jets may have similar flow rates; however, nozzle designs are quite different. These jets vary in size—from 51 to 127 mm (2 to 5 in.) in diameter—and emit water patterns called flumes that are more diffuse in nature, with much lower nozzle velocities.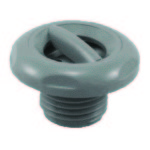 Soft tissue jets operate between 34 to 45 lpm (9 to 12 GPM) 0.09 to 0.11 MPa (13 to 16 psi). Soft tissues include tendons, ligaments, fascia, and skin—especially where skin is thin and/or sensitive. This includes areas such as the inner arm, carpel tunnel area of the wrist, side of abdomen (trunk area), and bottoms of feet and hands.
These jets can also operate at higher velocities to provide 'middle-style' therapy to create a kneading effect. This is a common technique used in the hot tub industry often referred to as 'over-driving,' which provides bathers with a slightly more intense massage without the pounding that is associated with deep tissue jets.
Acupressure jets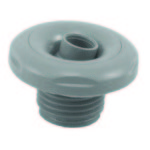 Acupressure jets are usually smaller in nature (but can also be larger) and are commonly used in large groupings to create an 'acupressure seat' in the hot tub. These seats typically comprise 10 to 20 jets, and with the proper hydraulic design they are effective at providing pinpoint relief to sore muscles. Acupressure jets typically operate between 23 to 30 lpm (6 to 8 GPM) at 0.10 to 0.11 MPa (15 to 16 psi), but with higher nozzle velocities than soft tissue jets.
Typhoon or volcano jets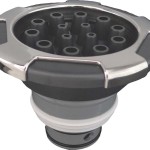 This is a specialty jet commonly used in foot wells, pedestals, and other foot locations. It produces a large flume of water and operates at flow rates between 151 lpm (30 GPM) to as much as 284 lpm (75 GPM). These jets also have many face configurations, which vary from a large, single-opening to multiple smaller openings arranged in patterns. These multi-nozzle designs are sometimes called 'foot blaster' jets as they are specifically designed to provide gentle foot therapy at higher water volumes.
Many of these jet styles also have interchangeable orifice designs to allow manufacturers to tune the jet to a particular system or need such as deep and/or soft tissue therapy.
Whirlpool jets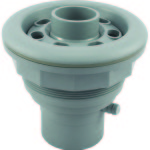 Of all jet styles the whirlpool jet has been around the longest. In fact, it was one of the first jets developed by hot tub manufacturers. These jets have directional style nozzles, which allow bathers to adjust them to a specified direction and have high nozzle velocities (151 to 454 lpm [40 to 120 GPM] at 0.10 to 0.11 MPa [15 to 16 psi]) to create the whirlpool water movement.
This type of 'passive' therapy is popular and can provide a relaxing environment for multiple bathers. While whirlpool jets were designed to act upon a body of water, they are also excellent direct therapy jets. The extremely large flumes and high nozzle velocities allow them to dig deep into muscle tissues in a 'kneading' fashion that is unmatched by other jet styles.
Hydrotherapy today
Water, whether liquid, vapour, or solid state, has the ability to heal and rejuvenate. While many of the benefits described in this article were physical in nature, most, if not all, offer psychological benefits as well. Everyone has experienced the simple euphoria of a refreshing shower or the relaxing mind set resulting from a long soak in a hot tub. For those who have hydrotherapy programs or products in their home and use them regularly, they can all testify to the impact these products and therapies have on their daily lives—both physically and mentally.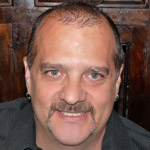 Vic Walker is the product design and marketing manager at Custom Molded Products (CMP), a manufacturer of plastic components for the pool, spa, and bath industries in Newnan, Ga. He has almost 20 years of experience as an industrial designer and more than 15 years of experience in the pool and hot tub industry where he has been awarded more than 15 patents for his contributions. He can be reached via email at vwalker@c-m-p.com.