Sell service
Online sales and big box stores offer good prices, but not necessarily service. Therefore, hot tub retailers have a huge competitive advantage in the variety of services they can provide. That said, retailers should make sure staff is well-trained on all of the hot tubs and chemical products it offers, and ensure they give customers a lot of individual attention.
To help with this, it is important to have a fully integrated software program, which allows the inclusion of extensive notes. This permits staff to easily pick up with customers where they might have left off on a previous visit, preventing the customer from feeling like they need to repeat their needs.
Water testing is another great way to connect and engage with customers. For instance, offering hot tub water testing seven days a week, with free drinks while the customer waits, can help to create a loyal retailer-client connection. Water testing services is also a great way to learn more about the customer, their needs, and ways to help them out, which builds more loyalty.
Service technicians are also a great resource
Retailers should also try to equip their service technicians in the field with two-way radios and computers/tablets with Internet connectivity. After making a service call, this enables them to log the results immediately, as well as create an invoice and e-mail it directly to the customer before leaving their driveway.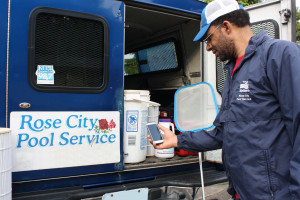 Determining where the hot tub should be placed in the backyard is a beneficial service that is often overlooked when a customer considers purchasing a hot tub. Most specialty retailers will agree, performing a site survey/backyard evaluation to determine the best location for a hot tub is really appreciated by the customer. Not only is it important for service access, but also for privacy and the electrical hookup. As part of this service, consider providing a platform base as an alternative to pouring a cement base (where applicable). Customers like this kind of attention to detail and options.
The price tag on the hot tub at a big box store might be very attractive, but they always neglect to say whether delivery is included in the sale price. In most cases, if it is included, it is a curbside delivery. As an added benefit to dealing with a specialty retailer, for those who are already making their own deliveries, make sure store staff are present so the hot tub can be placed where the client wants and/or answer any additional questions or concerns.
Create a competitive advantage with business integration
Hot tub retailers have an immediate advantage over big box stores simply by being specialized and by offering high quality products that are unavailable at these other retail outlets. Further, specialty retailers also service the products they sell, are better at generating personal relationships with each and every customer, maintaining a local presence in the community, and offering educational opportunities to their clientele. These are the given advantages over the competition, but unfortunately, these only matter if they are provided at a level that is superior to not only big box stores, but every other retailer in the area as well.
How can a retailer achieve this superior level of customer service? Internal business integration (and an outstanding staff) ensures a competitive advantage. However, the three most important elements to superior customer service are confident and engaged staff members, comprehensive and easily accessible business data (from customer history to available inventory), and continuous contact with the customer outside the store.
The onus is on the retailer when it comes to customer service; however, comprehensive business integration will help provide the latter. The combination of powerful software and strong business processes can ensure customer satisfaction. For example, complete business integration would allow follow-up e-mails to be sent to new clients interested in purchasing a hot tub and then a thank you letter once they have made a purchase. Software can also help retailers stay in touch throughout the swim season by sending reminders when it comes time to drain the swimming pool, or change the hot tub filter. Reminders can also be sent to schedule a pool opening, or suggest a heater checkup if a warranty is about to expire.
This communication is vital to a retailer's success, offering them a powerful advantage over big box retailers. Building strong relationships with the client base is important to developing lifelong customers that will remain loyal despite lower prices at the big box store down the road.