By John Bereza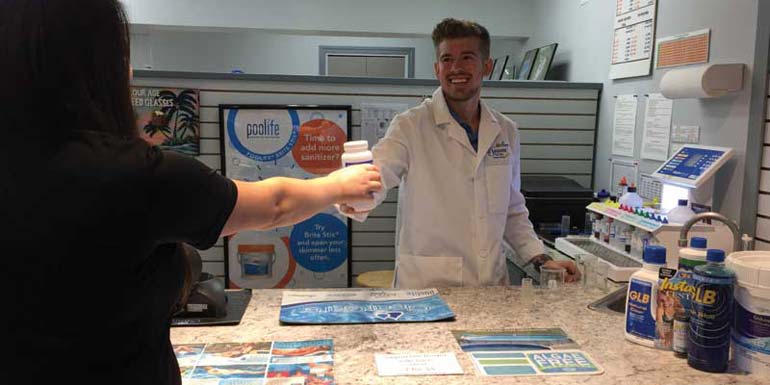 Pool and hot tub specialty retailers across North America continue to report strong growth—from pool and hot tub sales to accessories and outdoor living product purchases. Despite this, the biggest challenge for most is chemical sales—or the lack thereof.
The question many retailers have is how they can sell more water treatment products at a profit when competing against big-box stores and online merchandisers. The answer is simple. Customize, specialize, and personalize each customer's water treatment experience. Doing so will help build customer loyalty and, ultimately, increase profits.
Today, those businesses that have perfected this sales technique are not only making money selling chemicals, but are also successful at using these products to bring in additional business. This article will discuss different concepts retailers can put into action to increase profits by building customer loyalty.
Made to order
When developing a way to differentiate a specialty retail business from the competition, the most important thing to avoid is competing on price. Should a retailer attempt to compete in this fashion, many owners will see inconsistent growth in their water care business even though their customer base might be growing.
To avoid this, customized water treatment programs should be developed specific to each customer, as this gives them a reason to return to the store to purchase water treatment products as well as other accessories and services.
What is the best way to get started?
Offering customers a simple 'discount bag' program is a great way to get a program like this off the ground. Start with a 'green' initiative and provide reusable bags to every customer. The next step is to offer a discount on water care products, filters, etc., when customers return to the store with the bag. This program raises brand awareness outside of the store, while also increasing customer loyalty.
It is also important to consider instructing staff to use the term 'water care products' and not 'chemicals.' Using the term 'water care products' directly reflects the fact pool and hot tub maintenance is also part of an overall wellness program for consumers who want to take care of their bodies. Thus, they do not want to soak in a bath of chemicals.
Another integral part to this program is to ensure the products made available to customers are different from competing products in the marketplace—especially those sold at big-box stores and online merchants. For instance, unique 'water care' products that are capable of maintaining proper pH balance and preventing scale build-up, in addition to making a bather's skin feel good when exiting the water. These are the types of products consumers are unlikely to find at a mass merchant.