Specialized service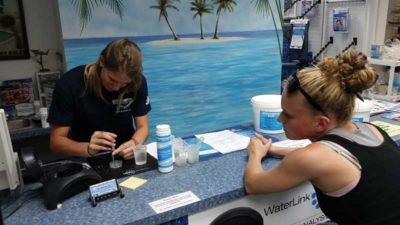 Pool and hot tub stores are called 'specialty' retailers for a reason. The industry is chock full of maintenance and service professionals who are experts in water testing, diagnosis, and water treatment product sales. In fact, many customers likely visit their local pool and hot tub store based on its reputation for providing accurate water diagnosis and water treatment programs.
That said, a store's water-testing area is essentially a water diagnostic centre which builds customer loyalty; therefore, it is important to capitalize on this expertise and use it to distinguish the business from competitors.
For example, when a customer comes in to have their water tested, and sits at the diagnosis centre counter to watch and wait for the results, they will often chat with staff. Therefore, staff should be properly trained and understand their value to the customer in getting to the source of any water-related problems. This can be exemplified to the customer by explaining what tests are being performed and why. This time should also be used to educate the customer and explain the various options available to them for water treatment.
Make sure the customer realizes these tests are unique and valuable and are far more comprehensive than any test they can do at home, as the water diagnosis centre not only measures pH and alkalinity, but also sanitizer levels and metals, in addition to performing filter testing for water clarity to get an idea of how well the filter is performing. This is why every water diagnosis centre should have seats/stools at the lab to allow customers to see what goes on behind the counter (e.g. watching their water sample change colours), but more importantly, provide them the ability to speak with the technicians. This personal interaction is one way a specialty retailer can differentiate its services from a big-box store, while also remaining competitive. Another approach where some have had success is selling water treatment products that are supplied locally or made in North America.
Add a personal touch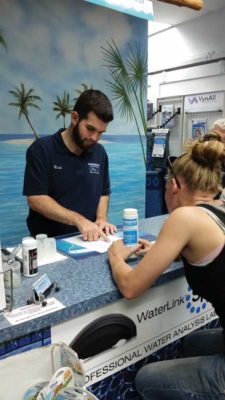 Personalizing a water treatment program for customers is a great way to ensure the profitable sale of pool and hot tub chemicals. However, to do this, staff should be knowledgeable and well-trained on the unique benefits every water treatment product the store offers—especially when it comes to solving special problems for customers.
One way to personalize a water treatment program is to have staff develop a comprehensive questionnaire for customers so they can be sure to supply (sell) them the appropriate water care products to correct any water quality problems they are experiencing. These programs need to be tailored to each customer to provide unique benefits that make the service offered by the pool and hot tub retailer stand out from the competition.
Take hot tub sales for example. An important aspect to selling these products is taking the time to discuss water treatment early in the sales process. This discussion will also help the retailer distinguish themselves from mass-merchants. This differentiation ultimately allows hot tub retailers to charge more and increase profits when selling water treatment products available through other sales channels.
Always take the time to find out what the customer's previous experience has been with hot tub usage and what they liked or disliked about it. This is the starting point to tailoring a water treatment program specific to their needs which might also include a saltwater system, chlorine, bromine, or ozone depending on what they are comfortable with. Taking the time to guide the customer through the available options is another way to set the bar high as an expert supplier of hot tubs and hot water chemistry knowledge. Taking the time to tailor a water treatment program may also lead to additional 'up-sell' opportunities for products other than hot tub chemicals, which is an added bonus.